Washington — Mike Brown, the subject of blistering criticism after Hurricane Katrina battered the Gulf Coast and overwhelmed the government's response, quit Monday as director of the Federal Emergency Management Agency. The White House moved quickly to replace him, installing a top agency official with three decades of firefighting experience as acting director.
Some of Brown's critics agreed with his decision, saying it would put the focus on efforts to manage the aftermath of the disaster, including helping the people left homeless.
Bush named R. David Paulison to replace Brown.
The president was told of Brown's resignation earlier Monday and spoke to Homeland Security Secretary Mike Chertoff, who was Brown's boss, from Air Force One.
White House spokesman Scott McClellan said the White House did not seek Brown's resignation.
"This was Mike Brown's decision and we respect his decision," McClellan said.
McClellan praised Brown's work but conspicuously left out any reference to his contribution to the Katrina efforts.
Paulison has led the U.S. Fire Administration, a division of FEMA and the Department of Homeland Security, since December 2001, according to a biography posted on FEMA's Web site. He led FEMA's emergency preparedness force from 2003-2004. He also is a certified paramedic.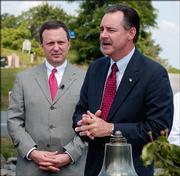 He is a career firefighter from Miami who was among the emergency workers responding to Hurricane Andrew in 1992 and the crash of ValuJet Flight 592 in the Florida Everglades in 1996.
Paulison also was chief of the Miami-Dade Fire Rescue Department, leading 1,900 personnel and a $200 million operating budget.
In an interview, Brown said he feared he had become a distraction.
His resignation came three days after he was sent back to headquarters from the Gulf area, where he had been the government's disaster point-man. It also came a little more than a week after Bush, on his first on-the-ground visit to the region after the storm, said, "Brownie, you're doing a heckuva job."
Brown, 50, and his agency fell under intense criticism from Democrats and Republicans almost from the moment Hurricane Katrina tore through Gulf Coast areas of Louisiana, Alabama and Mississippi.
Brown didn't help himself with seemingly ill-advised comments, such as when he said the government didn't know about 20,000 people at the New Orleans convention center until a day after it had been widely reported in the news.
Copyright 2018 The Associated Press. All rights reserved. This material may not be published, broadcast, rewritten or redistributed. We strive to uphold our values for every story published.