Auburn, Ala. — An Auburn football player who spent days believing his two younger brothers were killed in Hurricane Katrina and not knowing his father's whereabouts has discovered that all three were alive and staying in Houston.
Alonzo Horton, a New Orleans native, said he learned Sunday night that his family members were alive after calling a cousin to tell them of the boys' deaths.
"He said, 'Man, that didn't happen because your daddy's right here with me. I was like, 'What?"' Horton said Monday. "I heard their voice and the phone died out, so I knew that they were OK."
Horton said another cousin had told him 6-year-old Delorean and Jerry, who just turned 8, died after taking refuge in the Abramson High gymnasium in New Orleans.
Horton had said Saturday that his father remained unaccounted for. He said that was the only confirmation he had received of their deaths. Horton's mother and other family members are staying in Atlanta.
His reaction to the good news?
"Just a sigh of relief," he said. "I can't really explain how I felt when I heard that. I just can't wait to see them. I can't wait to talk to them again.
"I still kept hope in the back of my mind," Horton said. "I prayed every night that they were all right."
Horton said he didn't know whether the youngsters ever took shelter in the gym.
"I don't know and I don't really care about it, as long as they're OK," he said.
Photo Gallery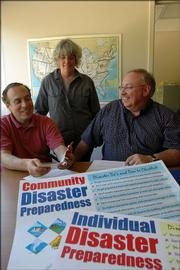 Hurricane Katrina
Meanwhile, a telethon will be held during the Mississippi State-Tulane football game Saturday to assist youngsters in relief centers and help rebuild Boys & Girls Clubs damaged by Hurricane Katrina.
The game had been scheduled at the Superdome in New Orleans but will be played at the Independence Bowl Stadium in Shreveport, La.
The game, billed as the "Big Game for the Big Easy," will be broadcast by College Sports Television. Proceeds will go toward rebuilding Boys & Girls Clubs and to the Conference USA relief fund.
Former New Jersey Sen. Bill Bradley is chairman of CSTV's Field & Dreams Foundation for disadvantaged youth, a group partnered with Boys & Girls Clubs.
"Sports is a metaphor for overcoming obstacles and achieving against great odds," said Bradley, who spent 10 seasons in the NBA with the New York Knicks. "Athletes, in times of this kind of difficulty, can be important role models."
Conference USA commissioner Britton Banowsky said the idea of canceling the Tulane football season was discussed briefly. Louisiana Tech offered to share its football facilities with Tulane and let its athletes enroll for the fall semester.
More than 370,000 elementary and high school students have been displaced by the hurricane, according to the Department of Education.
Also, Carmelo Anthony and Ray Allen are among 15 NBA and WNBA players teaming up with "Wheel of Fortune" to raise money for Katrina victims.
The players will tape shows Thursday for the game show's NBA week, airing Oct. 31-Nov. 4. Each player will partner with a fan from their team's city, and the fans will play for cash and NBA-themed prizes. The players will compete for their favorite charities and for the Red Cross.
Copyright 2018 The Associated Press. All rights reserved. This material may not be published, broadcast, rewritten or redistributed. We strive to uphold our values for every story published.