At least it was good practice.
The state told Lawrence on Thursday to stop planning for the possibility of hosting 250 Hurricane Katrina evacuees.
"We're done," Paula Phillips told a group of more than 50 public service and nonprofit officials who had gathered for a second day to plan for a shelter at Kansas University's Robinson Center.
Phillips had just gotten off the phone with state emergency management officials who said Kansas was expected to receive only 500 evacuees on Monday, far fewer than the 4,230 Gov. Kathleen Sebelius said the state could take.
Lawrence was slated to open a shelter only if the state received more than 4,230 evacuees. All of Monday's evacuees, which are from New Orleans, are scheduled to be housed in Wichita's Century II convention center.
"This absolutely was not in vain," Phillips said of Lawrence's planning efforts. "What this whole process has given me is confidence that the plans we have in place are working."
Local nonprofit leaders said they also hoped it put community members in the right frame of mind to donate.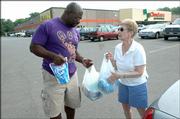 "We certainly want to encourage people to keep making monetary donations," said Wendy Leedy, health and safety program director for the Douglas County Chapter of the American Red Cross.
Leedy said it was still likely that the local chapter of the Red Cross would need to provide assistance to evacuees even though the community wouldn't have a shelter. Leedy said her office had made contact with about a dozen people who may locate in Lawrence because of family and friends in the area. The local Red Cross office has received $85,000 in donations as of Thursday.
The office is accepting only monetary donations. People wanting to donate goods can do so through the Lawrence-based charity Waves of Relief. The charity - which originally was formed by Lawrence resident Tom Van Holt, who was caught in Thailand during the tsunami - has set up a drop-off station in the parking lot of Checkers at 23rd and Louisiana streets. The station will be available from 11 a.m. to 7 p.m. today, Saturday and Sunday.
People who stopped by the drop-off location Thursday said they appreciated the opportunity to help in a way other than giving money.
"I'm really a local, grassroots person, so I like the feel of this," Marilyn Roy said. "I was just waiting for a shelter to open in Lawrence so I could go volunteer."
Photo Gallery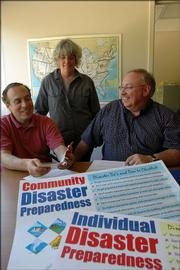 Hurricane Katrina
Kent Van Hoesen, a volunteer with the organization, said items collected likely would be trucked to a Kansas shelter, if at all possible. If not, the group is investigating communities on the Gulf Coast that could take the supplies.
Sebelius' office said that while Lawrence no longer needed to plan for evacuees, shelter locations in Shawnee, Saline and Finney counties could still be called into action.
But Nicole Corcoran, the governor's press secretary, said federal officials had decided against sending the full 4,000-plus evacuees to Kansas because shelter conditions in Texas were no longer overcrowded and evacuees in those locations did not want to move again.
Sebelius also said Thursday that federal officials had told her that they were shifting their focus toward getting more long-term accommodations for evacuees.
"People don't want to get back on a bus, leave one shelter and be bused to another shelter," Sebelius said. "So, if they are going to end up on a cot in a large living facility, they want to stay where they are."
Sebelius said states now were being asked to look at how many motel rooms, houses and campus beds were available.
"That is what we are in the process of doing now," Sebelius said.
In other hurricane related news:
¢ Bert Nash Community Mental Health Center announced that despite canceled shelter plans, it would continue to participate in the Kansas All Hazards Behavioral Health Program providing mental health services to Katrina survivors.
¢ Dr. Howard Rodenberg, director of health for the Kansas Department of Health and Environment, assured Kansans that a decision to temporarily waive immunization requirements for students seeking to enter Kansas schools would not create a health problem.
"The vast majority of these children will have met school entry immunization requirements in their home state that are similar to Kansas requirements, but they simply won't have their immunization records," Rodenberg said. "This waiver will allow them time to get those records or for them to get the remaining immunizations.
- Staff writer Scott Rothschild contributed to this report.
Copyright 2018 The Lawrence Journal-World. All rights reserved. This material may not be published, broadcast, rewritten or redistributed. We strive to uphold our values for every story published.