Julie's voice sounded excited over the phone.
"Dad, I did like you said. I bought a voice recorder for my iPod."
"That's great," I said into my cell phone. "I'd like to see it."
Since getting an iPod as part of a package deal with her laptop computer a few weeks ago, Julie had slowly been getting some accessories.
Before the iPod, she had been talking about getting a tape recorder to record lectures in some of her college classes.
I suggested that she see if she could find an aftermarket digital voice recorder that attaches to her iPod.
She found one called an iTalk.
Sold by Griffin (about $39), it attaches to the top of her iPod. And it lets her record digital audio files directly into Apple's mp3 player.
After we talked, I realized that the iPod is creating its own little universe of aftermarket must-haves to go with it.
And it kind of reminded me of a product from long ago, when Julie and her sisters were small. It was nagging me that I couldn't remember.
Getting wired
If you haven't noticed, iPods have blown away the competition. Since iPods were introduced in 2001, they have captured the bulk of the hard drive mp3 market.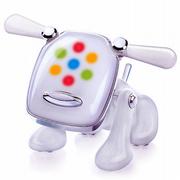 It's easy to see.
If you walk through a college campus, it won't be long until you run across someone with the tell-tale white iPod ear bud wires dangling from their ears.
The iPods are being used for more than just music.
For example, last year Duke supplied every incoming freshmen with iPods that came preloaded with orientation information, course content and an academic calendar.
This year, Duke's student newspaper, The Chronicle, reports that iPods will be distributed to students who take specific courses. About 800 iPods will be doled out to students signing up for some 24 classes, most of them foreign language courses.
Podcasts - audio recordings designed to play on iPods and other mp3 players - also are making it into academia.
Audio clips from Andrea Herstowski, KU assistant professor of design:
Bowling Green's student newspaper, the BG News, reported last week that starting this semester, students will have access to an online service that offers podcasts of lectures.
Back in Lawrence, design students at Kansas University are finding another use for iPods other than playing music - they can easily transfer large art project files without fear of losing data.
"Probably about 50 percent of my seniors have iPods," said Andrea Herstowski, a KU assistant professor of design.
Out of the box
Herstowski is probably more familiar with iPods than most other KU professors. She created one of the first boxes that packaged them.
Before coming to KU four years ago, Hestowski worked for Apple in Cupertino, Calif. There she was involved in what was then the new iPod project, creating packaging for the early iPod models and accessories, such as a remote.
"When I first started working on it, it was still just for the Mac," the KU design professor said. "And that was the first thing that Apple had ever done that worked on the PC - was PC compatible. And it was a big surprise that Steve Jobs (Apple's founder and CEO) did that. And that was very smart.
"He's a smart guy, but I'm sure he didn't even see that it would take off that well."
Accessorizing
Besides grabbing more than 80 percent of the hard drive mp3 player market, iPods also have spawned an interesting mix of accessories.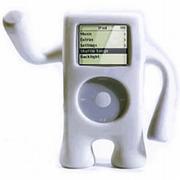 There are lots of cases to protect your iPod. And even iPod socks and arm bands for those on the go.
And you can get fashionable audio speakers for your iPod. For example, the Bose SoundDock connects to the bottom of an iPod or a Mini iPod ($299).
And, for true audiophiles, there's the "Klipsch iFi," a sound system specially built for the iPod. It has two Klipsch Reference Series RSX satellite speakers, an 8-inch subwoofer, a docking station and a radio frequency remote ($399).
OK, so what if you don't have any time (or technical aptitude) to load all your CD music into your iPod? No problem. Businesses have sprouted up to do it for you.
One is LoadPod, (LoadPod.com) which offers nationwide service, picking up your iPod and CDs and delivering them back to you in five days.
On the road
Want to play your iPod music on your car stereo? There are accessories that act as a transmitter to send your iPod tunes to your car stereo via a weak FM radio signal.
There also are several cars that allow you to attach your iPod directly to your car stereo. All of Volvo's 2005 models are iPod-compatible.
Volvo offers a Volvo iPod Adapter, which comes with a wiring harness and cable. You simply plug your iPod into a cable in the armrest compartment and the car's audio system synchs up to it.
Last year, BMW also teamed up with Apple to make its car stereos iPod accessible. BMW uses an adapter that lets you control your iPod or iPod mini through the car's audio system and multifunction steering wheel (www.ipodyourbmw.com).
Wagging the iPod
It seems that new products continue to be added to the iPod family of products.
Another one that came out this week for the iPod was the DLO mini FM by Digital Lifestyles Outfitters.
The little silver battery powered device ($39) connects to the audio port atop the iPod, letting you tune into FM radio stations. It's also a headphone amplifier, boosting the iPod's volume by more than 25 percent.
Remember the Aibo, the robotic dog? One of my favorite iPod accessories is the i-Dog by Sega, which also is being marketed by Tiger Electronics and Hasbro ($29.99).
The i-Dog is a little white robotic pooch that, when plugged in (maybe I should say leashed) to your iPod, plays music through its speakers, flashes a mix of lights and moves its ears and head to the beat.
All you have to feed it is your music (and two AA batteries). It also works with other mp3 players.
If you like the i-Dog, you might also be into the iKub, a little robotic case holder by Kubrick. But, like other action figures, you'll have to use your imagination - all it does is sit there and hold your iPod.
Apparently they're hard to find. One iKub was going on eBay this week for $104.
If you want a Gumby-like presence for your iPod, you might consider iGuy. Made by Speck, it's a holder with bendable arms that serves as a toy and a case ($34.95).
Ruling the world
I was looking at Julie's iTalk, which plugged into the audio port directly atop her iPod.
"It works great in class," my daughter said. The digital files were saved on her iPod's hard drive and she could easily retrieve them to listen again.
I spoke into the microphone, then played it back.
"What hath God wrought?" the iTalk repeated through its microphone, which doubles as a speaker.
"I'm glad when iPods first came out I didn't get one, because now they're even better," Julie said.
I told her maybe she didn't wait long enough - Apple was supposed to announce the iPod phone this week.
"They're advancing it into one little gadget that controls everything," she said, laughing. "Soon, iPods will control the world."
She put her ear buds in as she finished talking, sweeping her long blonde hair to the side.
That's when it hit me. I finally remembered what other product the iPod was like.
Hmm. I'm sure somebody in the vast iPod think tank is working on it.
I wonder when we'll see the coming out party for the iBarbie?
Copyright 2018 The Lawrence Journal-World. All rights reserved. This material may not be published, broadcast, rewritten or redistributed. We strive to uphold our values for every story published.