One of the most challenging hurdles many gardeners face is trying to create a layered look by combining plants and flowers in a way that mirrors what they see in magazines and books.
That's why many gardeners turn to professionals to help them realize their vision, and that's exactly what I did.
I asked a few local pros to share some of their trade secrets - to let us peer through their expertly trained eyes at which plants work well together in the garden and what mistakes novices like us are making. This planting season, I want area residents to be armed with the know-how to create a lush, layered and continually interesting garden space.
Grouping plants
Lawrence landscapers George Osborne and Reed Dillon agree that one of the most prevalent mistakes gardeners make is buying only one plant they're fond of and peppering the yard with it. Rather, gardeners should group plants together, purchasing more than one of a species they like.
"I would advise people to always plant larger groupings of the same plant, rather than one or two," Dillon says. "Plant shrubs in groupings of three to five, and perennials in groupings of five to seven. Use fewer varieties in greater numbers, and the final result will be much more pleasing to the eye."
Osborne says people tend to think too small.
"They have a little patch of plants, and nothing repeats itself," he says. "The idea is to get repeating patterns that the onlooker's eye can follow."
OK, so we should aim to buy more of a plant that we're attracted to, but how do we know if plants will look good together?
Dillon's advice?
"Play with texture and foliage color, contrasting with evergreen. Use a perennial with gray foliage, like lamb's ear or lavender or catmint, next to an evergreen shrub like 'China Girl' holly with dark green glossy leaves," he says. "Make a big statement by planting a shrub rose hedge that blooms from May until October, with various perennials grouped in front of it. Plant large numbers of perennial bulbs like daffodils tucked in areas of ground covers."
Try these
A few favorite plants from our pros ¢ Hollies ¢ Boxwood ¢ Columnar junipers ¢ Azaleas ¢ Oriental anemones ¢ Viburnum lantana ¢ Itea ¢ Fernleaf buckthorn ¢ Diablo ninebark ¢ Oakleaf hydrangea ¢ Helianthus ¢ Lavender ¢ Shrub roses Source: Lawrence landscapers George Osborne and Reed Dillon
Osborne recommends concentrating on the foliage rather than blooms.
"Go for more texture and color of the leaf of the plant rather than merely focusing on the blooms," he says. "Put light colors in the shade, which will give the illusion of a shady spot seeming more bright."
Focal point
The time to view a garden is in the morning and evening, when the sun is behind the plants. At those times, go outside and assess your situation. Where do you want beds to be? What are the conditions? Do you have certain colors or plants in mind, or are you working around some existing flora?
Dillon starts his projects with the "bones" of the garden.
"I begin with an evergreen foundation as a backdrop because we do face at least five months without foliage in this climate," he says. "Hollies, boxwood, columnar junipers, some varieties of azaleas, all do well here and give winter color. Once that is in place, then you need to group your remaining plants according to the look you are trying to achieve."
If you are creating a bed in the middle of the lawn, along the property line or near the house, there are a few rules to keep in mind. Place larger, textured flora, such as oak leaf hydrangeas or large-leafed hostas, toward the back of the bed.
Keep in mind the structure you are working against; in many cases, it's a house.
"As far as planting against the house, I think everyone is guilty of planting too close to the structure," Osborne says. "Keep in mind the color of the home, the materials used to construct the house. Don't just ignore the backdrop of the home."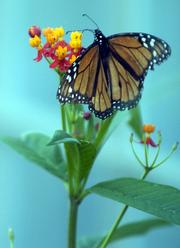 Dillon also has advice for planting near the house.
"How many trees have you seen planted 2 feet from the house when they were a 5-gallon plant, and now the tree is 25 feet tall and leaning way out, damaging the foundation and the roof and looking awkward as well?" he asks. "Keeping the size relative is important. You don't want to plant a cute little viburnum with pretty blooms without knowing that it wants to grow to 15 feet tall and 12 feet wide. You will end up pruning it constantly, ruining the natural shape and causing way too much work.
"Gardening is enough work in Kansas as it is; don't make it harder than it needs to be."
Seasonal combinations
So we've got a few basic rules under our belts. What about keeping a constant stream of color and interest in the garden?
Osborne says, "I try to plan a garden so there is something going on all the time."
Dillon says most gardening work is done in the spring, and people tend to buy plants in bloom.
"As a result, the late summer- and fall-blooming perennials like turtle head, Japanese anemone, asters and helianthus often get overlooked, and the garden ends up being devoid of color at a time when everything is looking pretty ratty," he says. "There are color combination rules, but I find that most colors work well together.
"Add upright textures from plants with sword-like foliage like iris next to a low-mounding plant like coreopsis moonbeam. Also give consideration to bloom time. I always try to get early-, mid-summer-, late summer- and fall-blooming perennials in a design."
All these considerations are a lot to absorb, which is why most gardens don't look like the ones in magazines. But if we keep in mind some of these tips from local gardening gurus, this planting season we may get one step closer to that outdoor oasis in our mind's eye.
Copyright 2018 The Lawrence Journal-World. All rights reserved. This material may not be published, broadcast, rewritten or redistributed. We strive to uphold our values for every story published.