Hal Sandy drew Kansas University's happy Jayhawk in 1946 and later sold the rights to KU for $250.
Times have changed. The university recently spent $88,900 to create a new logo that was stamped on the jersey worn by Sandy's smiling Jayhawk and publicly unveiled Wednesday at a university news conference.
In recognizing Sandy's contributions, KU Chancellor Robert Hemenway joked that the sense of thrift the university practiced in buying the rights would continue.
"We will try to continue that kind of economy," he said.
But some say they don't see frugality in the logo design effort. The changes also included making the official colors royal blue and crimson.
"I think that $90,000 is way too much for a new logo," said Karen Bentley, a KU sophomore.
Anthony DeFilippo, a KU senior, said he would have preferred KU hired its own students to design the logo.
"I wish nobody had told me how much it cost to make (the changes)," DeFilippo said. "Now, when I see it, I'm like, 'Waste of money.' But it looks good."
Photo Gallery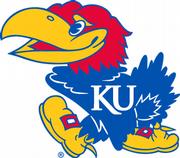 Jayhawks through the years
Private funds covered the cost of LandreyMorrow, a Portland, Ore., firm hired to help develop the new logo. The firm's work included holding focus groups and gathering input on the subject.
KU marketing director David Johnston said the clear, cohesive image would save the university money in the long run by making communications more efficient.
"Now we know what these symbols communicate and can better use them," he said.
KU officials at the news conference Wednesday lifted a screen to reveal the bird sporting the new logo.
"This is something that is long overdue," Hemenway said. "We're starting a new era, and we're starting it today."
The university also unveiled its new "signature," a combination of KU's logo and full name.
The new images will be popping up on everything from business cards to T-shirts to university vehicles to the floor of Allen Fieldhouse.
They come after two years of research, discussions and planning. The new logo and related images are part of KU's integrated marketing campaign aimed at unifying the university's visual identity with hopes of improving recruiting, public outreach and public relations with state officials who control the purse strings for state funding.
The new logo will not mean the end of other typefaces on merchandise, said Paul Vander Tuig, KU's director of licensing and trademarks.
"The intent is that this 'KU' will supplement the other ones out there," he said, adding that he believes the new logo will prove the most appealing to buyers.
A graphic identity standards manual, including logo and signatures for university departments to use, will be placed on the Internet later this month. That will begin the phase-in process. Guidelines on Web, signage, merchandise and other elements of the system will follow.
Sandy, a 1947 graduate, drew the Jayhawk now in use while he was a KU student.
Now a retired marketing consultant who lives in Westwood Hills, Sandy said he was asked by the public relations director to draw the "happy" Jayhawk now long-familiar to KU fans. Until then, many earlier renditions made the mythical bird look aggressive or mean. Sandy was called on to make a happy Jayhawk.
"On the dining room table of my grandmother's home in Kansas City, where my family stayed during the war, the Jayhawk was born," he said.
He'd never drawn a cartoon before and hasn't since.
"I'm flattered that little bird has endured," he said.
Copyright 2018 The Lawrence Journal-World. All rights reserved. This material may not be published, broadcast, rewritten or redistributed. We strive to uphold our values for every story published.