Lawrence leaders are waiting on a phone call that could open the city's doors to 250 people displaced by Hurricane Katrina.
A group of city, county and university officials agreed Wednesday that a gymnasium in Kansas University's Robinson Center could be used as a 30-day emergency shelter, if the state of Kansas receives more than the 4,230 evacuees that Gov. Kathleen Sebelius has committed to take.
Paula Phillips, director of Douglas County Emergency Preparedness, said the state expected 24-hour notice before evacuees were flown into Topeka's Forbes Field or Wichita. Lawrence would be asked to open a shelter if more than 1,680 people step off the planes in Topeka. That is the number of evacuees that officials in Shawnee and Johnson counties have said they could safely house.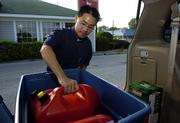 If the call comes, City Commissioner Sue Hack vowed the city would be ready.
"Lawrence is a compassionate community, and we will meet the needs of these people," Hack said.
Phillips said she assumed the city would be required to open a shelter. But Joy Moser, a spokeswoman with the Kansas Adjutant General's office, said it was uncertain Lawrence would be asked to house evacuees. Moser said her office thought the state would receive no more than 4,250 evacuees. Lawrence has been asked to plan for an unexpected overflow.
Stocking the shelter
More than 50 Douglas County public service and nonprofit leaders met Wednesday to plan to gather necessary supplies - ranging from toiletries to television sets - to stock a shelter. Plans call for food to be provided by KU's cafeteria system, which was a major factor in the selection of the Robinson gymnasium. The building also has adequate shower and restroom facilities for 250 people.
Photo Gallery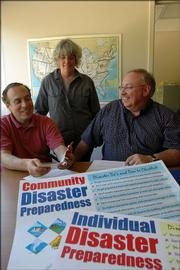 Hurricane Katrina
Hack, who has been designated spokeswoman for the Lawrence effort, said KU leaders thought there were only a handful of classes that would have to be moved to accommodate the shelter. No cancellation of classes was expected.
Staffing the shelters is expected to create a drain on city and county resources, though. Phillips said federal guidelines called for approximately 10 people - ranging from mental health and medical professionals to police officers - to be at the facility 24 hours a day. That could mean police officers, firefighters, social service workers and other public servants pulled from their regular duties to staff the shelter.
But Hack promised community needs also would be met.
Some upset
Phillips said the evacuees arriving in the state likely would be those now still living in New Orleans.
Outpouring of help
The Lawrence community continues to organize fundraisers and other events to help victims of Katrina. Here is a list: ¢ Unity Church of Lawrence, 900 Maiden Lane, has raised $1,700 for the Love In Action Katrina relief fund. Collections for the fund will continue. The church also will hold a 12-hour prayer vigil today starting at 6 a.m. ¢ A fundraiser will be held Saturday at Babette, 924 1/2 Mass. The hair salon business will donate 30 percent of the day's sales to the Red Cross. In addition, hair stylist Wes Sharpton will donate 100 percent of his fees to the Red Cross. ¢ Food 4 Less stores are collecting money that will be passed on to the Red Cross. Customers can tell cashiers they want to make a donation and a receipt will be given to them. Food 4 Less also has pledged to donate $3,000 on behalf of the company to the Red Cross. ¢ A group of doctoral students at Kansas University's School of Social Welfare have spray-painted their hair green, purple and gold in honor of New Orleans while accepting donations to the Red Cross. They hope their hair coloring draws attention to the cause. Since Tuesday, $500 had been raised. ¢ Lawrence dentists James Otten and Christopher Leiszler said they will provide urgent dental care at no cost to those who have sought refuge in Lawrence. ¢ The Lawrence Chamber of Commerce, 734 Vt., will serve as a drop-off site for monetary donations to the Salvation Army and the Red Cross. Checks should be made out to those agencies with reference to the disaster relief fund. ¢ The Lawrence High School band will hold a marathon concert in the auditorium from 1 p.m. to 8 p.m. Sunday for the benefit of hurricane survivors and to raise funds for a band trip next spring. To raise money for band scholarships, there will be food items for sale in the cafeteria and a silent auction for baskets donated by families and businesses. ¢ Verizon Wireless is enabling its customers to donate $5 to the Red Cross. To participate, customers can send a message to 2HELP, or 24357, using the key word "help." Follow the instructions.
"Most likely these will be the final evacuees from New Orleans," Phillips said. "They will not have had showers. They will not have had much food. They will not be in a good mood."
Officials also began contemplating various reactions from the community. Jane Blocher, executive director of the Douglas County Chapter of the American Red Cross, said she had received several phone calls from people fearing that evacuees would come to the city and take jobs that "should go to people who live here on a permanent basis."
"There are some pretty strong feelings out there," Blocher said.
But Hack and Phillips said they hoped the community would be supportive of the efforts.
"We will treat these people with respect and dignity," Phillips said. "They are our neighbors."
Several students who were in the Robinson Center on Wednesday applauded the move.
"It is exciting that KU is finally getting involved to help," said Ashley Moore, a KU sophomore. "We're all one country, and we should all work together."
Money coming
Phillips said she did not have a timeline to know whether Lawrence would be called to action. She said Iowa on Wednesday morning had been given 24 hours notice that evacuees were on the way. Kansas is thought to be next on the list.
"I could get the phone call in five minutes or in five days," Phillips said.
Costs to set up a shelter in Lawrence are not known. But any work or services provided by government agencies, including KU, are expected to be reimbursed. Sebelius filed paperwork with the White House on Tuesday seeking 100 percent reimbursement for evacuee care.
Plans call for the shelter to be open for 30 days. But Douglas County leaders said they had to prepare to help evacuees for longer.
"I think we all know that New Orleans will not be back to normal in 30 days," said Douglas County Administrator Craig Weinaug.
Phillips said the community likely needed to think about how it could help people find longer-term housing and jobs in the Lawrence area after the 30-day period.
Several nonprofit leaders also expressed nervousness about what could come their way. Marcia Epstein, director of Headquarters Counseling Center, said there was concern that people's financial giving to the hurricane relief efforts may hurt local fundraising efforts for nonhurricane-related activities.
"People need to remember to give above and beyond what they would normally give to this community," Epstein said. "We can't lose sight of the ongoing needs we have in our community. But we'll make all this work because we have great people here."
Copyright 2018 The Lawrence Journal-World. All rights reserved. This material may not be published, broadcast, rewritten or redistributed. We strive to uphold our values for every story published.