Chat with Lawrence Mayor Boog Highberger
Welcome to our online chat with Lawrence Mayor Boog Highberger.
The chat took place on Thursday, September 8, at 4:00 PM and is now closed, but you can read the full transcript on this page.
Moderator: Good afternoon and welcome to our online chat today with Lawrence Mayor Boog Highberger.
I'm Dave Toplikar, World Online editor, and I'll be the moderator today.
Welcome, Mayor and thanks for making the time to come down to the News Center for another one of these cyber meetings with the public.
Mayor Boog Highberger: Greetings, cyber-citizens! It's a good day to type.
Moderator: OK, we'll go ahead and get started.
Kevin, Lawrence: Boog, You had stated that one of your goals was to build consensus and get the SLT built. I see nothing happening but further legal threats to the 32nd St. alignment and further delays. Is there any hope at all that consensus will ever be reached? Can't you and the city/county commissioners give us drivers some relief by improving the existing 31st Street? Especially needed are additional turn lanes and signals at 31st and Haskell and 31st and Louisiana. Thanks.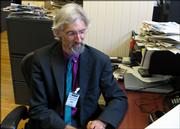 Mayor Boog Highberger: Thanks, Kevin. Yes, I think consensus will be reached. Most people I talk to don't care where the SLT goes as long as it gets built. Many people who have opposed the project in the past realize that something needs to be done in that area to meet our future transportation needs. i there is a growing sense that a south of the Wakarusa option fits better with our future regional transportation needs than the 32nd St. route does. Whatever route is chosen, finding the funds for construction will be the real challenge . i think we have a better chance of securing funding if we can identify a route that has greater community acceptance than the 32nd St. route. I agree that improvements to the 31st Street intersections are needed, but it will be difficult to justify spending a large amount of money on intersection improvements if there is a possibility that the intersections will be radically changed, as they would be under the 32nd Street proposal.
David, Lawrence: Hi Boog. I remember the days of Agnes T. Frog and the many machinations of the South Lawrence problem. Even if we "compromise" and put in a connection there, will it not become just another development headache? If "we build it, won't they come" by the droves?
Mayor Boog Highberger: Good question, Dave. I think that no matter what happens with the SLT,there will be substantial development south of the Wakarusa by 2025. I don't think that there is a way to stop that that wouldn't have serious negative consequences for our community. I do think that we can control that growth so that we build denser, more pedestrian friendly neighborhoods and commercial areas while preserving some farmland and important natural features. If the SLT does go south of the river we need to have clear plans for how, when, and where development will proceed in that area.
Moderator: Mr. Mayor, this next question isn't about the SLT, but about a sidewalk.
Julie, Lawrence: I was curious to know if there is a chance that the addition of a sidewalk on the part of Kasold to be worked on may be dropped? As a biker and runner, providing another north/south option for easy access is important to those of us who utilize bikes for transportation and recreation. Is the sidewalk the bigger issue for residents or is it mainly the retaining wall?
Mayor Boog Highberger: Julie, I think the people who live along Kasold have legitimate concerns about how the Kasold reconstruction will affect their property. Regardless of what design option is chosen, some of the neighbors will end up with a retaining behind their houses and will lose the trees and other landscaping on the city right of way. But, i think that we need to ensure that this project serves the long-term best interest of the whole community. That will require including a bicycle/pedestrian path for those citizens who walk or bike for transportation.
Peter, Lawrence: You want to move drug offenses to the Municipal court. I watched the hearing that was conducted last Wednesday. All I heard was students and people worried about losing financial aid, etc. I never heard that we should keep the laws tougher so people don't do drugs. What message are we sending to these young people? How are they going to learn that doing drugs has consequences? Maybe they will learn and not do any drugs again. If today's law prevents one person from doing drugs than I believe with no doubt that the law should stay.
Mayor Boog Highberger: Peter, under the proposal to adopt a city marijuana ordinance, penalties would stay the same as under state law. many other Kansas cities have their own controlled substances ordinances. adopting a local ordinance would put us in the same position as Topeka. The two main differences under the local ordinance would be: 1) prosecution would be simpler, meaning that we would spend less of your tax money on these prosecutions and free up some of the district attorney's resources for dealing with more serious offenses; and 2) a municipal conviction would not disqualify the offender from receiving federal financial aid. I think that the federal act is too harsh. Making it more difficult for people to get a college education doesn't seem like a very good way to encourage rehabilitation.
Mel, Lawrence: Why can't the city support the city wide recycling when we subsidize the city golf course for millions of dollars? Not everyone uses the golf course, but more would use the recycling. I think it would be a better use of the cities money. Thanks.
Mayor Boog Highberger: Mel, First the city isn't subsidizing the golf course 'for millions of dollars." The operating subsidy has been more on the order of $100,000 a year for the last several years. Because there is an outstanding debt on the golf course, it would cost the city substantially more than that if we shut it down.
One of the first things I did after I got elected was to look into the possibility of curbside recycling in Lawrence. Although I really like the idea of curbside service, i do not support moving forward with a city program right now for the following reasons:
1) because of our targeted recycling programs, like yard waste & commercial cardboard, we already have the highest recycling rate in the state.
2. City curbside would likely increase our total recycling rate by only a small amount.
3. we would have to raise everybody's monthly utility bill by 7 to 11 dollars a month to cover expenses.
4. Private curbside pickup is available in Lawrence for a comparable fee.
Things that would make me change my mid;
1. significant improvement in the market for recyclables.
2. Significant increase in landfill fees.
3. Permanent closure of Wal-Mart recycling facility.
We will continue to review these factors. I think that curbside recycling will be feasible at some point in the future.
Kongemiah, Lawrence: Mayor, I was wondering as to what your thoughts are on the increasing number of roundabouts and speed bumps, particularly along Harvard. Personally, I believe the number to be slightly ridiculous, especially when one counts the number of signs at one of the newest roundabouts. Shouldn't we be spending less money on unnecessary road signs and "improvements"? The roundabouts are designed to cause traffic to slow down and hinder speed, but I personally have seen many people instead whip around at blazing speeds and drive through side roads just to avoid using the roundabout. Also, drivers are especially uninformed as to how a roundabout is intended to function. I have oftentimes fell victim to pushy drivers that "always have the right of way". Perhaps these aren't such a great idea?
Mayor Boog Highberger: Kongemiah, I think every intersection and every street needs to be evaluated on a case-by-case basis. For some intersections, a roundabout is the best solution. For other intersections a light or a stop sign will work better. there is a difference between roundabouts and traffic circles-- roundabouts are designed primarily to improve traffic flow, while traffic circles are intended as traffic calming devices. I'm sorry that some of the drivers you encounter don't yield when they should at roundabouts, but it is possible to encounter rude drivers at 4-way stops also. If everybody drove at a reasonable speed and yielded when they should, a lot of our traffic control devices wouldn't be necessary. One thing I have learned as a city commissioner is that traffic tends to go at the speed the road is designed for. If we need to take steps to slow traffic in some places to keep our neighborhoods safe, we will continue to do so.
Moderator: We're starting to run tight on time, so this will be our last question.
Emily, Lawrence: Do you have improvements in mind that could create more jobs for people in Lawrence? Lawrence seems to have more people than job opportunities available for them. Many struggle.
Mayor Boog Highberger: Thanks for your question Emily. There a number of economic development initiatives underway in this community. The city and county have provided funding for a new bioscience initiative that I think has great potential for helping turn KU research into local companies that will provide good local jobs. The city and county are working to expand our inventory of industrial land available for new and expanding businesses. the city continues its support of the Chamber of Commerce's business retention and attraction efforts, which have been very successful this year. I sincerely hope that our efforts will help create more jobs in Lawrence that will allow people to live and work here without having to struggle every day to make ends meet.
Moderator: Mr. Mayor, thanks for taking so much time this afternoon to take questions from our online readers.
I understand that now you're on your way to participate in an interview with the Journal-World's Joel Mathis, for his weekly Journal-World Radio podcast.
We'll be interested to hear that audio interview when the podcast is posted on this site on Friday.
Also I'd like to thank all of our readers for their many questions today.
Copyright 2018 The Lawrence Journal-World. All rights reserved. This material may not be published, broadcast, rewritten or redistributed. We strive to uphold our values for every story published.