Seabury Academy's soccer squad defeated Englewood Christian School of Independence, Mo., 4-0, Tuesday night at the Youth Sports Inc. fields.
Min Kyu Lee, Shin Jae Lee, Robert Halloran and Sinan Ozar scored for Seabury. Paul Bireta recorded the shutout in goal.
Halloran, Mike O'Malley and Scott King were cited for strong play.
"I have to commend the other team. They played the entire match with eight players. Their effort and spirit was very commendable," Seabury coach Gunar Harmon said. "It's a work in progress evidenced by 11 on eight."
Seabury (1-3) will next meet Flint Hills Christian on Friday in Manhattan.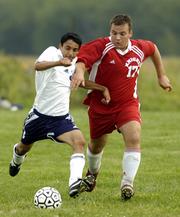 Seabury volleyball splits
De Soto - Seabury defeated Shawnee Maranatha 25-20, 25-20 at a quad at De Soto, yet it was one of the losing matches that had Seahawks coach Craig Friedrichsen happy.
"Our match against De Soto was by far the best volleyball we've played this year," Friedrichsen said of a 25-22, 25-23 loss.
Seabury also lost to Atchison, 25-3, 25-21.
Lindsey Ahlen, a four-year starter, had five blocks in one match against De Soto and six kills against Maranatha. Seabury's home opener will be at 5 p.m. Thursday.
Copyright 2018 The Lawrence Journal-World. All rights reserved. This material may not be published, broadcast, rewritten or redistributed. We strive to uphold our values for every story published.