A family displaced by Hurricane Katrina is on its way to Lawrence, and hundreds more may soon follow.
City officials announced Tuesday that a New Orleans family has been chosen as part of the city's program to adopt a family displaced by the hurricane. Ursula and D.J. Markey, along with their 25 year-old son who has a learning disability, are expected to arrive in Lawrence next week.
But officials with Douglas County Emergency Preparedness are planning for hundreds of additional families to show up on Lawrence's doorstep. Paula Phillips, director of the county's emergency management agency, said Gov. Kathleen Sebelius' office has asked Lawrence to serve as a possible overflow shelter site for some of the 4,500 storm victims who will be transferred to Kansas from overcrowded shelters in Texas.
City, county, hospital, university and nonprofit agencies are meeting this morning to determine where to shelter between 100 and 500 people. Discussions also will include whether the community has enough resources - both in terms of dollars and manpower - to provide necessary services for the hurricane evacuees.
Places in Kansas almost certainly expected to house evacuees funneling through Texas include Wichita, Topeka, Salina, Garden City and Johnson County. It is unknown when evacuees might begin arriving in those communities, but Joy Moser, a spokeswoman with the Kansas Adjutant General's Office, said it could be as early as today.
Helping helpers
Plans for Lawrence's adopted family are more certain. The Markeys currently are in Canton, Miss., and are expected to arrive in Lawrence early next week.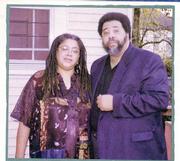 The Markeys were brought to the city's attention by Kansas University professors Ann and Rud Turnbull, who knew the Markeys through their work with children with disabilities. The Markeys run a New Orleans training center that works with parents and children affected by disabilities. That center, along with their home, was destroyed by the hurricane.
"I call this couple the Mother Teresa of the disability movement," Ann Turnbull said. "They are great people."
Lawrence Mayor Boog Highberger said the couple's story was so compelling he decided to forgo his original plan of receiving a referral from a relief agency working in the Gulf Coast region.
"The help that we give to them, I think they'll be able to give it back many times over to a lot of other people," Highberger said.
Chip Blaser, vice president for operations at the Ballard Community Center, said donations to help the family have been rolling in steadily since the city announced the program Thursday. Blaser estimated a half-dozen landlords had offered temporary lodging, and he said there had been donations of furniture, shoes and other necessities.
Officials with the Douglas County Community Foundation said $16,000 had been raised, which will be used by the Ballard Center to pay for items and services that have not been donated.
Photo Gallery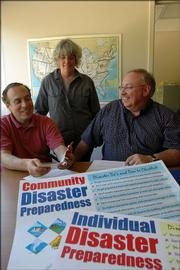 Hurricane Katrina
Blaser said he believed the program would be able to secure housing for the Markeys through at least January.
Rud Turnbull said that in his discussions with the Markeys, they indicated they were planning to stay in Lawrence for the long term, and continue their work helping the disabled.
"It is entirely appropriate that this couple start its life over in this community," Rud Turnbull said. "Lawrence started out as a town of protest against slavery. Its history is civil rights. These people are civil rights leaders. They are disability activists."
Shelter planning
Local emergency management leaders said they thought it was likely that many other people may start their lives over in Lawrence. Phillips said her office was working hard to prepare the community as a site for evacuees.
How you can help
Sunflower Broadband's 6News, in conjunction with the American Red Cross and the Salvation Army, is raising funds for relief for Hurricane Katrina victims. 6News will host the special "Hurricane Katrina: We Care" from 8 p.m. to 10 p.m. Sept. 11 on Sunflower Broadband Channel 6, during which viewers can make pledges to the relief agencies.
¢ Direct donations to the Douglas County Chapter of the American Red Cross may be made with a credit card by phone at 843-3550, or by mailing checks or money orders to Douglas County Red Cross, 2518 Ridge Court, Lawrence 66046. Donations also may be made online in various ways at www.redcross.org.
¢ Donations to the Salvation Army may be made by credit card at (800) SAL-ARMY or online at www.salvationarmyusa.org. Checks may be mailed to 3637 Broadway, Kansas City, Mo. 64111.
"I think there is a good possibility that we'll see an influx of people," Phillips said. "The question we have to come up with is how large of a shelter can we manage."
But Moser, with the state's adjutant general's office, said state leaders had not yet determined whether Lawrence would be needed as a shelter site. She said it was hoped that the five primary sites would be able to accommodate all the evacuees the governor had agreed to take.
"It is far from a certainty," Moser said of Lawrence becoming a shelter site. "But it is reasonable (for Douglas County) to plan. We do try to plan for more than we probably will receive."
Phillips said possible locations for a Lawrence shelter could include shuttered schools, such as Centennial or Grant, or the city's recreation centers. Phillips said the community would need to acquire a significant amount of new resources, such as cots and mattresses, to operate a shelter.
Sebelius on Tuesday filed paperwork with the White House requesting future 100 percent federal reimbursement for any expenses undertaken by Kansas communities to provide disaster relief.
Copyright 2018 The Lawrence Journal-World. All rights reserved. This material may not be published, broadcast, rewritten or redistributed. We strive to uphold our values for every story published.