Chicago — The Chicago White Sox haven't clinched the AL Central yet. With the way they are playing so far in September, it shouldn't be very long.
Paul Konerko homered for the third straight game, and Juan Uribe hit one for the second day in a row to lead the White Sox to their sixth consecutive victory, 6-5 over the Kansas City Royals on Tuesday night.
"We cannot relax," manager Ozzie Guillen said, refusing to claim a playoff spot with a 91â2-game lead over Cleveland and 25 games left. "We have to fight all the way to the end. We have (six) games against Cleveland at the end of the season. It's not over until it's over."
The White Sox stayed a perfect 6-0 in September, moving to 86-51, the best record in the American League.
Orlando Hernandez (9-7) won for the first time since July 29 after losing a career-high four straight decisions, keeping a run of six straight wins by the starting staff alive.
Uribe homered for the third time during the winning streak, hitting a solo shot to lead off the three-run second inning. Konerko hit his 35th homer in the seventh, a solo shot off Jeremy Affeldt that gave the White Sox, who led 5-0 after two innings, a 6-3 lead.
"I feel good, I'm just trying to get a good pitch to hit," Konerko said. "I'm just trying to focus on that, not worry about myself."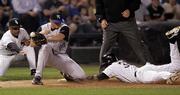 Matt Stairs singled off Damaso Marte to lead off the eighth, and Emil Brown followed with his 13th homer, and second in two games, to get the Royals within a run. Cliff Politte relieved Marte and got the last two outs of the inning.
Dustin Hermanson pitched the ninth for his 33rd save. The Royals have lost 98 straight games when trailing after eight innings.
"I have to look at the one-run losses as somewhat of a positive," Royals manager Buddy Bell said. "It shows that we're a team that has some character, we just don't have quite enough."
Jose Lima (5-14) lost for the sixth time in seven starts, giving up five runs and 10 hits, six of which came in the first two innings.
Copyright 2018 The Associated Press. All rights reserved. This material may not be published, broadcast, rewritten or redistributed. We strive to uphold our values for every story published.