During the price surge of recent weeks, ethanol fuel costs have risen just as fast as regular gasoline.
That might be a surprise to consumers - after all, ethanol fuel is made partly from corn and thus would seem less dependent on the Gulf Coast refineries. But the price of ethanol fuel also is driven by the cost of regular unleaded gasoline.
"Usually there is not much a difference between them," said Jere White, executive director of the Kansas Corn Growers Assn. "Sometimes different pressures can drive the cost of it different ways, but ethanol usually tracks about the same as gasoline prices."
A fuel comprised of 10 percent ethanol was $3.09 Tuesday at a convenience store in Eudora. Unleaded fuel at the same location was $3.13 a gallon.
The price of fuel with ethanol somewhat depends on how it was purchased, said White and Monte Shaw, spokesman for the Renewable Fuels Assn., a national trade group for the ethanol industry.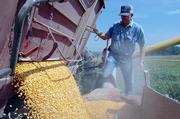 If it's purchased on the market, it is reasonable for the cost of E10 to run parallel with regular unleaded fuel, Shaw said.
"If the price of gasoline goes up then the price of ethanol on the spot market goes up," Shaw said.
But he and White said the bulk of ethanol was purchased through contracts that outline a cost rate. White said he speculates that two-thirds of the ethanol leaving the plant in Garnett was purchased for $1.20 a gallon or less.
"It's kind of mind-blowing," White said. "Retailers are not happy about the mark-up. Consumers are not happy about it. But the ethanol plants aren't as happy as you would think. We're not seeing a big chunk of the cost. Someone out there is, but it's not the plants."
AAA doesn't track the price of ethanol-blend gas.
"The use of it is not widespread and there may be some regular gasoline that could have some ethanol included," said Kim Mathewson, a spokeswoman for AAA of Kansas.
Gas prices nationwide were 1.6 cents less Tuesday compared to the price during Labor Day Weekend, Mathewson said. The supply picture does seem to be improving.
"But it's still extremely tight and motorists should work to conserve gasoline and help themselves with high gas prices," she said. "The hope is the industry will recover and be producing again at pre-storm levels as soon as November."
Copyright 2018 The Lawrence Journal-World. All rights reserved. This material may not be published, broadcast, rewritten or redistributed. We strive to uphold our values for every story published.