Dallas — Might as well throw out those preseason football magazines and the special sections from the newspapers - unless any of them happened to have Baylor and Oklahoma State on top of the Big 12 South, with Oklahoma and Texas A&M; pulling up the rear, plus a North division crammed with undefeated teams.
Strange as it all sounds, that's what the standings in today's paper show.
All right, so it's not likely to look that way after 11 games, maybe not even after two. Even folks in Waco and Stillwater know they better enjoy it while it lasts.
But it's a good indication of what a strange start the Big 12 Conference is off to this football season.
The Sooners and Aggies were among just four teams in the preseason Top 25 that lost to unranked foes Saturday, smudging the conference's national reputation, the South's status as one of the nation's most formidable divisions and taking some of the luster off the Texas-OU game next month.
The immediate question is whether No. 7 Oklahoma's 17-10 loss to TCU was just a weird combination of things or the start of a Sooners slide. And there are plenty more questions, too.
Did the Horned Frogs have better players? The better game plan? Or were they merely lucky enough to get the first crack at a team that turned over more than anyone expected?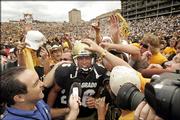 Was Jason White really the glue to the offense? Is Paul Thompson or Rhett Bomar the right replacement at quarterback? And that ankle sprain that knocked Adrian Peterson out for part of the second half - will it become a lingering problem all season?
Regardless of what coach Bob Stoops says this week, the only answers that matter will come over the next four games: home against Tulsa on Saturday, at UCLA, home against Kansas State, then in Dallas against the Longhorns.
"We still have a chance to win the conference and possibly be in a BCS bowl," offensive lineman Davin Joseph said. "We might be behind the 8-ball right now, but we're nowhere near a losing team."
Considering Oklahoma's track record, it's conceivable this was just a hiccup, that the Sooners will learn from their mistakes and use the early loss as motivation to get back into the BCS mix.
Come to think of it, that's what Texas A&M; did to a certain extent last year.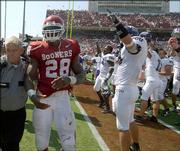 The Aggies were more unknown going into the season because they were coming off a 4-8 year in coach Dennis Franchione's debut. Hopes were high for a 2004 turnaround, but some folks wrote them off after a loss to Utah in the opener.
Well, Utah turned out to be darn good, making that loss less embarrassing, and A&M; quickly got back on track. The Aggies finished 7-5 and earned a No. 17 preseason ranking.
They came within two seconds of making it hold up, only to lose, 25-24, at Clemson. That's not an easy place to play, and the Tigers might end up being pretty good, too, especially if quarterback Charlie Whitehurst comes back from a fourth-quarter head injury.
Like the Sooners, the Aggies are facing more questions than answers. But they learned last year that there's plenty of time to make folks forget the opener.
Unfortunately, that's also true for Baylor, Oklahoma State and the six North squads. They won't all have a perfect record this season, and many might end up with more losses than wins.
For now, though, they can all savor being 1-0 - especially Baylor, which ended a 24-game road losing streak; Oklahoma State, which won in the debut of coach Mike Gundy; and Colorado, which got a 47-yard field goal with four seconds left to cap an 11-point comeback over rival Colorado State.
Most teams were playing inferior clubs, but it doesn't really matter. Oklahoma and A&M; thought they were, too, and look where it got them.
"I don't think anyone has played their best football yet," Baylor coach Guy Morriss said Sunday, referring to his players, though it applies to other 1-0 teams, too. "We all have things we can get better at."
Statistically speaking: Since the standings appear to be jumbled, here's a look at the statistics.
Thomas Clayton went from Darren Sproles' seldom-used backup to the conference's leading rusher with 177 yards in Kansas State's 35-21 victory over Florida International. The best part: Clayton's longest run went 80 yards, which is nine more than he ran for all of last season. It also went for his first career TD; he added another later.
Texas freshman Jamaal Charles, who some think will make Longhorns fans forget Cedric Benson, is second with 135 yards. Baylor sophomore Brandon Whitaker is next with 110, followed by Clark Green of Kansas (107), Paul Mosley of Baylor (105) and Hugh Charles of Colorado (101).
Then there are two quarterbacks: Texas A&M;'s Reggie McNeal (100) and Missouri's Brad Smith (95).
Speaking of QBs, Texas' Vince Young is rated at the top after going 13-of-17 for 173 yards and three TDs, followed by Smith and Iowa State's Bret Meyer.
William Franklin and Brad Ekwerekwu each caught eight passes for Missouri, which gained 657 total yards, only 8 shy of the school record set in 1949. The receiver with the most yards was Nebraska's - yes, Nebraska's - Frantz Hardy.
Big red revival?: The Nebraska passing game wasn't the only thing cranked up in Nebraska's 25-7 victory over Maine.
The Cornhuskers also had 11 sacks, tying the school record set against Oregon State in 1989. It was an impressive performance coming off a 2004 season that saw the Huskers rank last in the Big 12 at defending the pass.
"The pass rush was our No. 1 priority," defensive end Jay Moore said. "Improve the pass rush. It's really all I thought about some days. You saw what happened last year when we didn't have a pass rush."
Copyright 2018 The Associated Press. All rights reserved. This material may not be published, broadcast, rewritten or redistributed. We strive to uphold our values for every story published.