New York — Far from a family feud, matches between Venus and Serena Williams create a family crisis.
This time neither of their parents could watch.
Artistry gave way to sheer slugging again in Sister Act XIV, the ongoing saga of siblings who hate to play each other - especially if it's not for a Grand Slam title.
Venus' 7-6 (5), 6-2 victory Sunday to reach the quarterfinals at the U.S. Open evened their head-to-head matches at 7-7 and gave the elder sister her second victory this year after losing six straight to Serena.
Venus bottled up her emotions, not her power, and could hardly manage a smile when it was over. Serena Williams shrieked and bounced her racket before limping off, angry at herself and achy.
It was the ninth time they met in a Grand Slam match and the earliest since Venus won the first clash in the second round of the 1998 Australian Open. Serena had won their last five matches in majors - all in finals.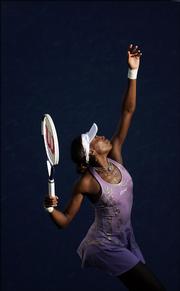 "Serena is the baby, so she's going to do her little tantrum," said older sister Lyndrea, the only immediate family member watching at courtside. "You kind of want to pull for her because she is the baby. It's hard, but I had to be there for them."
The 25-year-old Venus, who won her third Wimbledon two months ago and is going for her third U.S. Open title, could see that Serena, three weeks shy of 24, was struggling to control her shots and temper.
"When she doesn't play her best is the best time to get a win against her," said Venus, who next plays No. 4 Kim Clijsters, a 6-1, 6-0 winner against Venezuela's Maria Vento-Kabchi.
Women's top seed Maria Sharapova had no trouble dismissing India's rising star, Sania Mirza, 6-2, 6-1, and next plays fellow Russian and No. 9 Nadia Petrova, a 7-6 (4), 7-5 victor over Nicole Vaidisova of the Czech Republic.
Former U.S. Open champion Lleyton Hewitt barely escaped the same fate as French Open champion Rafael Nadal.
A day after James Blake knocked the No. 2 Nadal out in the third round, American Davis Cup teammate Taylor Dent came close to ousting the third-seeded Hewitt in a five-set thriller Sunday in the same round at the U.S. Open.
Hewitt next plays No. 15 Dominik Hrbaty.
Copyright 2018 The Associated Press. All rights reserved. This material may not be published, broadcast, rewritten or redistributed. We strive to uphold our values for every story published.