Kansas City, Mo. — The Kansas City Royals had to be wondering where this offense has been for most of the season.
The Royals had 18 hits, including three home runs and five doubles, in their highest-scoring game of the season, a 17-8 victory over the Texas Rangers on Sunday.
"It was fun just to sit back and watch our guys hit, instead of scratching out runs," manager Buddy Bell said.
The Royals totaled 20 runs and 13 extra-base hits in the first six games of this homestand, five of them losses, before Sunday's finale. Kansas City avoided a four-game sweep.
"It was just a matter of time before we put it together," said Mark Teahen, who drove in three runs with a double and sacrifice fly. "It's been awhile since we've been able to relax on the field. It was definitely nice to go out and beat someone soundly. When we got guys on base, we got some clutch hits, which we haven't been doing."
The victory was only the sixth in 34 games for the Royals, who own the worst record (44-91) in the majors.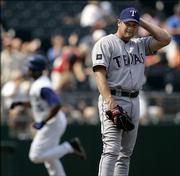 Angel Berroa drove in five runs, matching his career high, while Aaron Guiel had three hits, including his first home run since Aug. 23, 2004, and scored three runs. Emil Brown drove in four runs, equaling his career best, with a two-run homer in the eighth and a two-run double in the third.
"It was nice to see so many guys in the lineup have clutch at-bats," Guiel said. "It's a confidence-builder for a lot of guys. It's definitely the first game since I've been back where I've had four or five quality at-bats."
Berroa homered in the second with Matt Stairs and Teahen aboard. It was Berroa's first extra-base hit in 23 games, a span of 82 at-bats.
"We scored enough runs to win, but we couldn't get them out," Rangers manager Buck Showalter said. "The home run by Berroa took the wind out of our sails."
Berroa added a two-run single in the sixth. He also had five RBIs on Aug. 9, 2004, at Detroit.
The Royals batted around in a five-run third and chased Rangers right-hander Edison Volquez, who was making his second big-league start.
Teahen and Brown each contributed two-run doubles in the third. Stairs drove in the first run of the inning with a bases-loaded walk.
Teahen had a sacrifice fly to score Terrence Long in the Royals' three-run fourth. Guiel led off the inning with a home run. Stairs' single to center scored Denny Hocking for the other run in the fourth.
Volquez (0-1) faced 15 batters, and eight scored. He retired none of the six batters he faced in the third inning, and four of the six hits he yielded were for extra bases.
"I think he learned a little about location and the consistency you have to have at this level," Showalter said.
Pitching coach Orel Hershiser does not believe the 22-year-old Volquez is overwhelmed by being in the majors.
"You can see it in his face," Hershiser said. "He's relaxed. He knows what he needs to do. If anything, he is underwhelmed. He'll be fine."
Left-hander Jimmy Gobble, who was making his first start of the season after 22 relief appearances, held the Rangers to one run and five hits over 4 1/3 innings. He left with the Royals up 11-1, but was on a restrictive pitch count. He threw 61 pitches before being replaced by rookie right-hander Leo Nunez (3-2), who was credited with the win.
"When I got to the fifth inning, I wasn't out of gas, but just a little fatigued," Gobble said. "Buddy did the right thing, taking me out. I wasn't throwing strikes. We got a win and that's the main thing. I knew going in my pitch count was limited."
Nunez allowed two runs and one hit in 1 2/3 innings.
Michael Young, who went 3-for-4 and leads the American League with a .327 batting average, singled home Gerald Laird in third for the first Rangers' run.
Kevin Mench hit his 24th home run in the sixth off Nunez. Mark Teixeira hit a three-run homer, his 35th, in the seventh, hiking his RBI total to 111. Gerald Laird hit a two-run homer in the ninth.
Notes: Former Nebraska 3B Alex Gordon, the Royals' first-round pick and the second overall choice in the June draft, left town Sunday after touring Kauffman Stadium and meeting club officials over the weekend without signing. ... The Rangers are 10-4 in their past 14 games after a 1-12 trip. They went 8-2 against the Royals this season.
Copyright 2018 The Associated Press. All rights reserved. This material may not be published, broadcast, rewritten or redistributed. We strive to uphold our values for every story published.