Topeka — It was only three months ago that a new, revolutionary portable medical unit was delivered to the Kansas Air National Guard's 190th Air Refueling Wing in Topeka.
Called an Emergency Medical Expeditionary Support System - EMEDS in military parlance - it has been in use by the military since the late 1990s, but the 190th has the only unit in the country designated for Homeland Security missions.
Its first mission started Sunday as it was delivered by military cargo plane to Mississippi, where it will be used by civilian medical personnel treating the victims of Hurricane Katrina.
"We had just barely finished inventorying it and then we got the call for it to go out," said Capt. Chris Hall, spokesman for the 190th.
"It's designed to be used in an area where there has been a terrorist attack or a natural disaster," said Lt. Col. Chris Stratmann, the mission support group commander of the 190th. "We weren't expecting to have to use it this quickly."
Based at Forbes Field in Topeka, about a dozen members of the 190th's ground crew spent Saturday loading the medical unit's equipment onto pallets. Early Sunday morning, they began loading dozens of the pallets onto a giant C-17 cargo plane flown by the 172nd Airlift Wing of the Mississippi Air National Guard from Jackson, Miss. By the end of the day, the plane had made two trips between Topeka and Gulfport, Miss., where the EMEDS will be taken somewhere to be set up.
Photo Gallery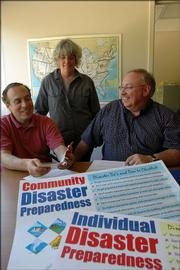 Hurricane Katrina
Although it is basically a portable hospital, it is nothing like the hospitals television viewers are used to seeing on the old television show "M.A.S.H.," Hall said.
The $2.1 million EMEDS is divided into three modular tent packages that house emergency and surgery rooms, dental and pharmaceutical services and inpatient-bed areas with 10 to 35 beds. It all fits together like an accordion, Hall said.
"It has unlimited capability and all you have to do is add another piece to it," he said.
Setting up an EMEDS could take several hours, depending on the number of personnel working on that job, Stratmann said. Two members from the 190th went to Mississippi to oversee the setup.
Once it is set up, it will be operated by civilian medical personnel and others from the local emergency management agencies and the Federal Emergency Management Agency, Hall and Stratmann said. It will remain at the site as long as it is needed.
When additional funds are approved by Congress, the 190th will get a replacement EMEDS, Stratmann said.
An EMEDS will normally have 10 days worth of supplies and can initially treat several thousand people, said Col. Deborah Rose, the 190th's vice commander and EMEDS project director.
The EMEDS also includes two 4,000-pound generators and several smaller generators. Equipment such as X-ray and ventilator machines are smaller and more compact than those found in hospitals, but they should present no adjustment problems for civilian doctors and nurses who use them, said Rose, who has a nursing background.
The EMEDS airlift went well Sunday, Rose said.
"Kansas is very pleased to - and proud to - be able to support the (hurricane) relief effort," she said.
The EMEDS mission is a recent addition to the 190th's main mission of refueling military planes while in the air with KC-135 tanker planes. The 190th also is home to the 73rd Civil Support Team, consisting of Air and Army National Guard personnel who support civilian authorities in dealing with chemical, biological and radiological disasters.
Copyright 2018 The Lawrence Journal-World. All rights reserved. This material may not be published, broadcast, rewritten or redistributed. We strive to uphold our values for every story published.