Photo Gallery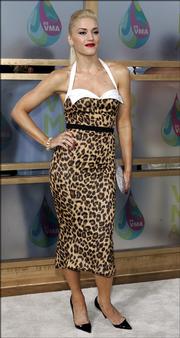 Fashion diva
New York — When Gwen Stefani takes the stage during New York Fashion Week, she won't be belting out chart-topping songs. Instead, she'll be showing off, well, belts, among other things.
The spring collection of L.A.M.B. features sweet floral frocks in prints of wisteria and chrysanthemums, and there'll be hard-core, edgy details like padlocks and chains, too.
L.A.M.B., which stands for Love, Angel, Music, Baby, makes its debut on the runway Sept. 16, the finale of eight days of fashion previews for spring 2006. What Stefani hopes will set her apart from the celebrity fashion designer bandwagon is her attention to detail.
She does have some real fashion credibility: On the red carpet, she's considered a trendsetter, with a style that mixes silver screen siren, gangsta girl, California mall rat and Hello Kitty.
She recently won Diddy's MTV Awards fashion challenge when she wore a leopard-print mermaid halter dress with a thin black ribbon belt to the ceremony.
L.A.M.B., which is priced like other contemporary designer collections, mostly in the $100-$300 range, is in its sixth season.
"Music and fashion, it all comes from the same place of creativity," Stefani says. "I don't see why any musician who has style or pays attention to style couldn't do it (fashion). It's an extension of my personality. I can't explain why I like it, it's just always been that way for me - like pizza."
Copyright 2018 The Associated Press. All rights reserved. This material may not be published, broadcast, rewritten or redistributed. We strive to uphold our values for every story published.