Washington — The number of homes destroyed or made permanently uninhabitable as a result of Hurricane Katrina is expected to far exceed that of any previous U.S. disaster, posing an enormous social and civic engineering challenge, government officials and housing experts said Sunday.
Facing an unprecedented need to find quick housing for what a Federal Emergency Management Agency official estimated could be 1 million displaced people, the federal government, corporations and private individuals are turning to previously untried and innovative strategies.
FEMA announced it had arranged for the first time to rent luxury cruise liners to house thousands of refugees for six months.
Mobile-home manufacturers, responding to pleas from FEMA, are adding shifts for workers to supply tens of thousands of travel trailers and mobile homes.
And in a remarkable outpouring, thousands of citizens around the country registered on newly sprouting housing-match Web sites to share their homes, in some cases offering to pay airfare and help find jobs.
Photo Gallery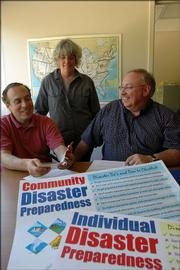 Hurricane Katrina
Officials said they are even considering converting many of the nation's retired steel shipping containers into temporary mini-housing units.
"We're trying to get out beyond our normal modes of assistance," said Brad Gair, head of FEMA's housing command post in Baton Rouge, La.
In Texas, where nearly a quarter-million refugees have filled the state's relief centers, Gov. Rick Perry ordered emergency officials to airlift some evacuees to other states willing to take them. Among the states that have offered help are West Virginia, Utah, Oklahoma, Michigan, Iowa, New York and Pennsylvania.
FEMA has not made a formal estimate of the number of homes irreparably damaged by the hurricane. But with a large fraction of New Orleans's more than 200,000 domiciles expected to remain largely underwater for weeks or months to come, the number is almost certain to exceed previous records, according to the National Association of Home Builders.
Fewer than 30,000 housing units were destroyed by Hurricane Andrew in 1992, and a similar number were lost from the cumulative impact of hurricanes Charley, Frances, Ivan and Jeanne in 2004.
How to help
The Douglas County Chapter of the American Red Cross is collecting donations for hurricane relief, but will have limited office hours today for Labor Day. Anyone wanting to bring in a donation should call the office to see whether it is open. The number is 843-3550.
Credit card donations to the local Red Cross may be made by phone, or checks or money orders may be mailed to Douglas County Red Cross, 2518 Ridge Court, Lawrence 66046. Donations also may be made online in various ways at www.redcross.org.
The Red Cross also is receiving calls from many people in the county wanting to offer their homes as refuge for displaced hurricane victims, said Jane Blocher, the local chapter's executive director. The Red Cross, however, doesn't handle that aspect of the relief effort, she said. She suggested checking online at hurricanehousing.org.
¢ The Salvation Army also is accepting donations, by credit card at (800) SAL-ARMY or online at www.salvationarmyusa.org. Checks may be mailed to The Salvation Army, 3637 Broadway, Kansas City, Mo. 64111.
¢ The Kansas Department of Health and Environment is recruiting health and medical professionals to serve in areas devastated by the hurricane. Those who want to become involved can submit information to KDHE by registering on its Web site at www.kdhe.state.ks.us. The information will be sent to emergency management officials who will contact the health professions directly if their presence is required.
The most immediate goal, government officials said, is to get the homeless into situations that have at least a semblance of domestic normalcy.
Toward that goal, Carnival Cruise Lines of Miami announced it had agreed to charter three luxury ships - Ecstasy, Sensation and Holiday - to the Military Sealift Command on behalf of FEMA for six months. As of Sunday, the agency was in negotiations for additional ships.
"These are not the last three," said FEMA spokesman James McIntyre.
Ecstasy and Sensation, which can house as many as 2,600 passengers each, are to be docked in Galveston, Texas. Holiday, which usually takes people on four- and five-day cruises to Mexico and can hold as many as 1,800 passengers, will be docked in Mobile, Ala.
Carnival shipboard employees will continue to staff the ships, but luxury will not be part of the package. "Gambling and casinos, that's not part of the contract," McIntyre said. "We're just trying to get people into rooms."
Mobile-housing manufacturers moved quickly to step up production in response to requests from FEMA for 50,000 travel trailers, tens of thousands of mobile homes and "any other housing stock we can get our hands on," Gair said.
"We've been working all weekend, putting plans together and talking to various vendors and suppliers," said Mark Williams, a director of Stewart Park Homes of Thomasville, Ga.
The company, which normally produces about 1,000 35-foot-long mobile homes per year, has committed to crank out 500 for FEMA in the next few months, Williams said. The first of those, able to house four people and slated for delivery to Baton Rouge, will come off the production line Friday, he said.
FEMA "contacted us within 24 hours of the storm going through," he said.
Authorities had set up 563 shelters in 10 states as of Sunday, according to the Department of Homeland Security. The goal is to avoid setting up extremely temporary quarters such as tent cities or shipping container homes, unless absolutely necessary, said Gair of FEMA.
Copyright 2018 The Lawrence Journal-World. All rights reserved. This material may not be published, broadcast, rewritten or redistributed. We strive to uphold our values for every story published.