LEXINGTON, KY. — For all the preseason talk about Louisville's high-powered passing game, it was a running back and a defensive end that led the Cardinals to victory in their opener.
Michael Bush rushed for 128 yards and two touchdowns, and Elvis Dumervil added a school-record six sacks as No. 12 Louisville held off Kentucky, 31-24, on Sunday.
The 6-foot-2, 250-pound Bush carried 27 times and scored on runs of 11 and one yards. He helped the Cardinals grind out the clock after Kentucky (0-1) rallied within a touchdown in the fourth quarter. It was Bush's fourth career 100-yard rushing effort and the Cardinals' sixth win in seven years against their in-state rival.
"I'm just real sore," Bush said. "I wasn't paying attention to how many carries I have. I'm glad they put it on my shoulders to do what I did."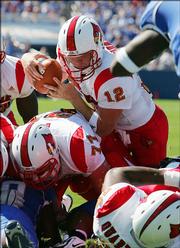 Louisville's heralded sophomore quarterback, Brian Brohm, went 19-of-27 for 179 yards and rushed for two touchdowns in his first collegiate start. He had just one incompletion in the first half as the Cardinals jumped to a 28-7 lead.
But the Cardinals managed only a 19-yard field goal by Art Carmody in the second half, opening the door for a Kentucky rally. The Wildcats pulled within 31-24 with 11:52 left on a 15-yard touchdown pass from quarterback Andre Woodson to tight end Jacob Tamme.
No. 8 Virginia Tech 20, North Carolina State 16
Raleigh, N.C. - Marcus Vick threw for one touchdown and made several key second-half runs in his first collegiate start, leading Virginia Tech past North Carolina State. The Hokies avenged their only Atlantic Coast Conference loss from last season and handed the Wolfpack another disappointing result against a top-10 team.
Copyright 2018 The Associated Press. All rights reserved. This material may not be published, broadcast, rewritten or redistributed. We strive to uphold our values for every story published.