If the Kansas University football team truly wants to throw its hat in the ring and contend for postseason play this fall, there are some serious jagged edges to smooth out. And quick.
The bottom line is, KU defeated Florida Atlantic, 30-19, Saturday at Memorial Stadium to start the season 1-0.
But looking closer, there are obvious deficiencies, similar to last season's, that potentially could hurt this team enough to deny the bowl berth it craves. A sputtering, sloppy offense during the first half had too many throws off the mark, and too many throws on the mark clanked off hands, leading to the same dismal story of offensive ineptitude when it wasn't needed.
Defensively, KU wasn't too spectacular, either, giving up two huge plays, both 66-yard touchdown bombs from Danny Embick, easily the best-looking quarterback on the field Saturday.
"You don't want those things to happen, but the toughest game of the year is always the first game," Mangino said. "It's nonconference, so you don't really know what to expect from the other team, and you just don't know how your guys are going to play that first game.
"NFL has preseason games, high schools have scrimmages. We play for keeps Day One."
On the bright side, both units improved and were solid late, when the epiphany that FAU wasn't kidding around became obvious.
Photo Gallery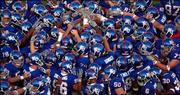 KU vs. Florida Atlantic
The Jayhawks struggled to find the end zone during the meat of the contest, allowing Division I-A's newest program to grab a humbling 13-12 lead with 3:02 left in the third quarter.
There was too much time left to panic, but KU's only touchdown to that point was a six-yard scamper by quarterback Adam Barmann, who, soon after, was yanked in favor of Brian Luke after a so-so overall performance.
"I thought we'd get (Luke) in the second quarter," Mangino said of his plan to use two quarterbacks. "That was kind of my thought, and that's how it pretty much played out."
Luke was a little sharper, but he completed fewer than half of his passes, too.
It wasn't entirely the senior's fault -- his lone interception deflected off Marcus Henry, and more than one pass was dropped downfield that could've helped put the Owls away plenty earlier.
But Luke hardly was satisfied at how his night went.
"There's definitely areas for improvement, I'll tell you that," Luke said. "I'm happy with the win, but ... there's a lot of areas to improve."
Go figure
37 Number of rushes by each team Saturday
1.9 Average yards per rush for FAU
5.4 Average yards per rush for KU
66 Yards for each of two touchdown passes by FAU's Danny Embick
On the flip side, the run game with Clark Green and Jon Cornish flourished, and KU's run defense was just as sharp. FAU averaged fewer than two yards per carry, forcing the aerial attack to be its only hope in moving the chains.
It worked. Embick, full of poise, threw for 299 yards, completing 20 of 28 passes and throwing no interceptions.
It was quite a performance against such a heralded defense, but one that didn't seem to have any Jayhawk discouraged.
"Looking at film, we knew he was going to be pretty good," junior Charles Gordon said.
Gordon was burned on the first 66-yard touchdown, a finger he's comfortable being pointed at him. The second, the one that gave FAU the lead, was to running back DiIvory Edgecomb. Embick bootlegged right, stopped and threw to the other side of the field to a wide-open Edgecomb. He wasn't touched.
"We could've played a lot better," Gordon said. "Everybody -- myself included."
Kansas, though, answered on the following drive, when walk-on Jeff Foster hauled in a Luke pass in the left corner of the end zone for his first career collegiate completion. Kansas never trailed again.
The Jayhawks, shooting for bowl-eligibility in Mangino's fourth year, is one-sixth of the way there with 10 regular-season games left.
And, as the players confirmed afterward, a sloppy victory beats a beautiful defeat any Saturday of the season.
"There was a lot of college games today, and 50 percent lost, 50 percent won," Gordon said. "We were part of the 50 that won."
Copyright 2018 The Lawrence Journal-World. All rights reserved. This material may not be published, broadcast, rewritten or redistributed. We strive to uphold our values for every story published.