Call it a doozy of a way to start a college career. Jeff Foster can't disagree.
A walk-on transfer from Division I-AA Northern Iowa, Foster was the one making fans at Memorial Stadium scramble for programs to find out who the heck he was after catching the touchdown pass that put Kansas University up for good Saturday.
Every season opener has a surprise, and KU's 30-19 victory over Florida Atlantic had a tall, lean wide receiver emerge from nowhere to haul in a 17-yard touchdown reception, followed by an eight-yard reception that prolonged an insurance-scoring drive in the fourth quarter.
"I was a little surprised," Foster said of his playing time. "I think that I was playing well, but a lot of other guys were, too. The coaches gave me a shot, and I took full advantage."
Foster's emergence isn't a complete shock to those who attended the few open practices in August. He looked like a sharp possession receiver Kansas could use, and playing time was earned as a result.
"He had an impressive fall," KU coach Mark Mangino said. "He earned his right to be out there, and I'm glad he got some work. He is in the rotation, and we will count on him as we go."
Photo Gallery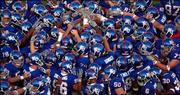 KU vs. Florida Atlantic
Foster arrived in Lawrence a year ago after taking a red-shirt season in 2003 at UNI. He wanted better academic opportunities, and considering several of his family members attended KU, it seemed the ideal, pre-paved path he should take.
After working with the scout team last fall, Foster slowly started to get the coaches' attention, and it culminated with several chances in the second half Saturday - even when the situation was tense.
"The short story is, I'm just a guy that works real hard and is trying to make the team," Foster said. "I worked real hard in camp, and the coaches gave me a shot."
He'll get more, too. Foster saw the field Saturday when touted young receivers like Marcus Herford didn't. After his potential first catch was broken up - and defensive pass interference was called - Foster's next chance came with KU down 13-12 and desperately needing a touchdown late in the third quarter.
Luke found the Cedar Rapids, Iowa, native on a fade route down the left sideline for what proved to be the game-winner with 32 seconds left in the third.
Kansas was up 19-13 and never trailed again.
Not bad for a guy who doesn't have one of KU's 85 allotted scholarships.
"He's new to us," Mangino said. "He's a kid who walked on here, worked really hard. He has a real want-to kind of attitude. He wants to prove that he can play at the Division One level and play for the University of Kansas.
"We're convinced he can."
Copyright 2018 The Lawrence Journal-World. All rights reserved. This material may not be published, broadcast, rewritten or redistributed. We strive to uphold our values for every story published.