HONOLULU — Matt Leinart and Southern California played as though the Orange Bowl never ended.
The Heisman Trophy winner threw for 332 yards and three touchdowns, and top-ranked USC started its quest for a third straight national championship with a 63-17 victory Saturday over Hawaii.
"I thought I did OK," Leinart said. "I'm just doing my job."
The Trojans' 23rd straight victory went a lot like their 22nd - a 55-19 demolition of Oklahoma in the Orange Bowl in January that featured five TD passes by Leinart and capped a 13-0 season.
Dwayne Jarrett caught three touchdown passes for USC, including a 28-yarder that helped Leinart break Carson Palmer's USC record of 72 touchdown passes. Leinart now has 74. His only hiccup in the game was a timing pass intended for the 6-foot-5 Jarrett that was intercepted by Hawaii's 6-foot cornerback Kenny Patton in the end zone.
Leinart, who sat out the fourth quarter, looked poised and sharp, going 18-for-24 with scoring passes of 22, 28 and 67 yards. The big lefty, who shocked the football world by passing up a chance to be the first pick in the NFL draft to return for his senior season, now is 26-1 as a starter.
"I don't ever regret my decision," Leinart said. "I don't think twice about it."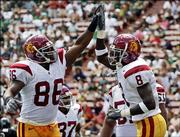 The Warriors (0-1) kept it respectable until the Trojans erupted for four touchdowns in the third quarter, including two scores in 10 seconds, to take a 49-10 lead.
"They did a beautiful job," USC coach Pete Carroll said. "We did a really nice job with the offense and I'm real pleased with the opening."
Reggie Bush's 1-yard touchdown run gave USC a 42-10 lead before 50,000 sun-baked fans at Aloha Stadium, the first sellout since 2002. On the ensuing kickoff, returner Mikhail Kafentzis was stripped, and Desmond Reed picked up the ball and ran 15 yards for another score that gave USC the 39-point cushion.
Bush, a Heisman finalist, rushed 12 times for 86 yards and two touchdowns, including a 41-yard score that put the Trojans up 21-3 at the break. He found a hole, juked the cornerback and ran down the left sideline and made an acrobatic dive into the end zone.
"I give him a 10 because he took off from far away," Leinart said.
Bush said it was mission accomplished in Hawaii.
"This was a small step in our task (for a three-peat)," he said.
Copyright 2018 The Associated Press. All rights reserved. This material may not be published, broadcast, rewritten or redistributed. We strive to uphold our values for every story published.