Salina — Gary Chrisbens considers 1939 to be the most magnificent year for movies.
It was the year of classic films like "The Wizard of Oz," "Stagecoach," "Wuthering Heights," "Goodbye Mr. Chips" and, of course, "Gone With the Wind."
It also was the year Chrisbens was born - on New Year's Day, no less.
It was a fitting birth date for a man who was to spend 50 years at the movies - beginning as an usher, ticket taker and concession stand worker and rising to theater manager and projectionist.
He spent the majority of his career at long-closed downtown Salina theaters like the Vogue and Fox (now the Stiefel Theatre for the Performing Arts).
He also worked at the 81 Drive-In on Salina's south side for 17 years, where he became manager at age 18.
After Chrisbens' last theater, the Vogue, closed in 1994, he decided to retire from the movie business. But the retirement was short-lived. He has been a volunteer projectionist at the Art Center Cinema since the theater opened in 1997 and has no plans to leave anytime soon.
"I'm only 66," said Chrisbens, sitting at his desk in the projection room of the cinema, where he has started nearly every movie since the theater's first film "Lone Star" was shown in April 1997.
"I'm also only a volunteer, so I can take credit when things go right, and if things go wrong, I'm still only a volunteer," he said with a laugh.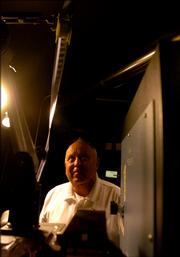 Evolving industry
Growing up, Chrisbens remembers going to movies nearly every week at one of the five theaters in downtown Salina, which included the Vogue, the Fox, the Strand, the Jayhawk and the Royal. He spent countless Saturday afternoons enjoying the antics of Abbott and Costello and the Bowery Boys or the western exploits of Roy Rogers and Gene Autry.
"Even when I was a small child, I knew I wanted to work in a theater someday," he said.
Chrisbens got his first theater job in 1952 at the Vogue. He was hired as an usher and wore a gray high school band uniform. He had just turned 13.
"I stood in the doorway with a flashlight and showed people to their seats," he said. "In those days, people came into the theater at all times, because something was continually running from the time you opened until you closed at night. You'd see previews, cartoons, short subjects, newsreels, travelogues and the main feature. Then everything would start over again without a break."
In those days, film was on 20-minute reels on two alternating projectors. Most theaters employed two projectionists, each working half-days from about 1 p.m. to 11 p.m. seven days a week.
"They usually had to do five shows a day unless it was a particularly long movie," Chrisbens said.
Dwindling drive-ins
At 16, he started working at the 81 Drive-In as a "ramp boy," guiding people to parking spaces and preventing them from running into concrete speaker poles. He was manager of the drive-in from 1957 to 1974.
Chrisbens also became the manager of Dickinson Theaters in Salina. From 1962 to 1974, he did advertising for the local theaters during the day and managed the drive-in at night.
Chrisbens left the 81 Drive-In in 1974 and started working at the Rocket Drive-In in 1976 (there were three years he didn't work in the movie theater business, which is why he counts 2005 as his true 50th anniversary). At the Rocket, he became a full-time projectionist.
"By that time, though, drive-ins were on their way out," he said. "There used to be 300 to 400 of them in Kansas, and now I think there's about six."
After the Rocket closed in the late 1970s, Chrisbens worked as a projectionist at the Fox until it was closed by Dickinson Theaters in 1987, soon after the company opened multiplex theaters at the Central Mall. Chrisbens returned to the Vogue, where he had begun his career 35 years before, as manager and projectionist until that theater closed in 1994.
'Key person'
"After the Vogue closed, I swore I wasn't going to go to another theater again," he said.
But when plans were announced by the Salina Art Center to build its own downtown theater, Chrisbens wanted to be part of it, if only on a volunteer basis.
"During the last four years of the Vogue, we had an international film series, and that's where I got to know the Art Center staff," Chrisbens said.
Having someone of Chrisbens' experience available was crucial to the Art Center Cinema's initial success, according to cinema director Heather Smith.
"He became a key person in the theater's organization," Smith said. "He taught us about ticket sales and concessions, taught the staff how to use projection equipment and taught all of us about the day-to-day operations of a movie theater.
"Every week, except for Memorial Day, he's been there to start just about every film. He really cares about the presentation of the movie and wants the audience to have a good experience."
The modern computerized projectors Chrisbens operates are much different from the two-projector system that existed when he started in the movie business. Today's films lie on huge flat platters that can run films lasting up to four hours and 15 minutes without changing reels. The Art Center Cinema has three platters, which are stacked.
New movies are delivered in two or more boxes or cans containing six or more reels of film, each about 20 minutes long. To prepare a movie for its weeklong run, Chrisbens or Art Center Cinema manager Joe Riley will splice together the separate reels into one giant continuous reel that is placed on the uppermost platter.
His one regret
In nearly 50 years in the movie business, Chrisbens said there is only one thing he regrets.
"Almost every theater I ever worked at closed while I was there," he said. "Some of them lasted a long time - the Vogue and Fox were both open 56 years.
"I told the staff here that if the Art Center Cinema lasted 56 years, this time I wouldn't be there to close it."
Copyright 2018 The Lawrence Journal-World. All rights reserved. This material may not be published, broadcast, rewritten or redistributed. We strive to uphold our values for every story published.