One reason the comic strip Dilbert enjoys so much success is that anyone who's ever worked in an office can relate to the nonsense of overbearing bosses, patronizing IT guys and annoying cubicle mates.
We laugh because we've been there.
But just below the laughter, for many workers, hovers a knot of frustration because, like Dilbert, we all crave a little respect - some acknowledgment that our contributions are valued.
Lee Friedlander understands that, and so does the Spencer Museum of Art.
An exhibition of the American photographer's pictures of workers opens Saturday at the museum, which also has planned a semester-long series of films, talks, video installations and demonstrations that pay homage to work.
Friedlander's sympathetic portrayal of subjects sets his work images apart from those of other photographers, says John Pultz, Spencer photography curator. In his shot of a woman installing the cord in an upright vacuum cleaner, the arch of a machinery hose frames her serene, downturned face, and the flesh of her arms catches the soft light as she works.
"Even though it's a factory, even though it might be a very noisy, messy place, the picture : almost gives to her work a kind of elegance, a kind of peacefulness and somehow elevates her," Pultz says. "She looks like a very competent person who is doing a good job of doing what she's hired to do."
Photo Gallery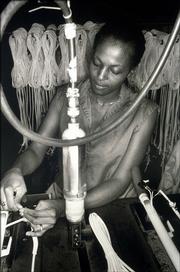 Lee Friedlander
View the enlarged photos to access audio commentary from John Pultz, curator of photography at the Spencer Museum of Art.
Shifting work
Friedlander, in his early 70s and still active in New York, took the black-and-white photos in "Lee Friedlander At Work" during a 16-year stretch from 1979 to 1990. They're the product of six separate commissions by businesses, museum curators, magazine editors and foundations, and they span the shift from factory work to a nine-to-five America powered largely by people sitting at computers and talking on phones.
"I keep thinking of these pictures as possibly the first artist seriously to engage with what we look like today when we're working, those of us who work with words and information," Pultz says. "I think that's fascinating, when you think about how much of work has been transformed into what you do in front of a keyboard."
Born in 1934 in Aberdeen, Wash., Friedlander came to prominence when his photographs were included in the 1967 watershed exhibition "New Documents" at the Museum of Modern Art in New York City. MoMA played host to a major retrospective of his work earlier this summer.
The Spencer is one of only three U.S. venues to present "At Work," organized by the Columbus Museum of Art; it also traveled to a trio of European sites.
The show squares well with the Spencer's mission, Pultz says.
"One of the things that we try to do at the Spencer is take exhibitions that are innovative works of art that also have lots of connections throughout the university," he says. "A lot of what a university does is prepare people in some way or another to go into the work world."
A museum first
Some of those people may end up making a living as artists. A handful of young KU shutterbugs will get a taste of that experience when their photographic interpretations of work go on view at the museum.
It's the first time student work has ever been shown at the Spencer, says Brett Knappe, a graduate student in art history and the museum's curatorial intern in photography.
He pared a field of 50 photos - 10 each by five students - to 20 that will be framed and hung in the entrance hallway beginning Sept. 23.
"It was hard," he says. "There were some really good photos."
Overland Park senior Mary McGuire has been traveling in Europe this summer and has captured images of protesters in Trafalgar Square, "working" to express their political views. Her photos also take a broad interpretation of work by exploring surveillance. She has become fascinated by the interplay among tourists, monuments and London's CTTV cameras.
"By taking these photos, it's like who's looking at who?" says McGuire, who's majoring in English and art history. "There are tourists looking at monuments and tourists being recorded by these cameras. There's just a lot of relationships that go on."
Museum directory Saralyn Reece Hardy hopes Friedlander's photos and all the related programming - including local workers performing their jobs on the museum's lawn - will engage the entire community.
"The ideas and experiences in a museum don't stop at the doorway," she says. "I'm hoping that the public sees that the Spencer is not an isolated place but rather is a source of lively dialogue with the community."
Copyright 2018 The Lawrence Journal-World. All rights reserved. This material may not be published, broadcast, rewritten or redistributed. We strive to uphold our values for every story published.