Baldwin — Brian Sheppard was on a Peyton Manning pace.
Baker University's senior quarterback completed eight of his first 12 passes for 136 yards and a touchdown. Then Sheppard suffered a dislocated thumb on his throwing hand.
Sheppard continued to play, but Benedictine wiped out the Wildcats' 21-7 halftime lead and recorded a 31-27 victory in the season football opener for both teams Saturday night at Liston Stadium.
"He played gutsy," Baker coach Mike Grossner said about Sheppard. "I thought he was a great leader tonight."
But Sheppard, favoring the thumb he hurt late in the first quarter, completed just 12 of 24 passes for 141 yards the rest of the way. He did throw two touchdown passes, though. Both were lobs - a 40-yarder to freshman James Hensley in the second quarter and a 16-yarder to Brandon Crosby after time had expired.
"I just couldn't throw the way I wanted to," Sheppard said. "I finally took the tape off, but the thumb kept popping out and in."
Photo Gallery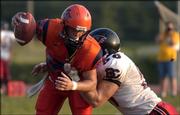 Baker vs. Benedictine 09-03-05
At least Sheppard was able to play. Tailback Micah Mason missed the entire second half because of cramps.
Benedictine overhauled the Wildcats with a 17-point third quarter that began with an apparently innocuous safety. Seth Williams, subbing for Mason, was tackled in the end zone after the Wildcats had been backed up to their own one by a punt.
That momentum shift seemed to invigorate the Ravens, and they marched 52 yards for a TD following Baker's post-safety free kick. Tailback Mike Steen's 19-yard run cut Baker's lead to 21-16.
"Momentum changed a lot when they got that safety," said freshman nose tackle Philip Weinmaster, a Free State High product.
Momentum really changed, though, several minutes later when Crosby caught a short pass from Sheppard and coughed the ball up on the Baker 29-yard line. Two plays later, Benedictine quarterback Wes Tanner tossed a 23-yard scoring strike to Jim Neuhoff to give the Ravens their first lead, 24-21.
Baker tried to mount a comeback on its next possession, but Sheppard was sacked for an 11-yard loss, and the Wildcats had to punt again.
Minutes later, Steen broke several tackles on the way to a 47-yard burst that set up still another Benedictine score. With 13:27 remaining, the Ravens had scored 24 consecutive points and led 31-21.
That's the way it would have ended if Benedictine hadn't miscalculated its ability to run out the clock. When Tanner went to a knee on fourth down at the Ravens' 16, the clock stopped at the last possible tick (:00.1).
Surprised, Baker's offense returned to the field and Sheppard promptly tossed his third TD pass of the night.
Copyright 2017 The Lawrence Journal-World. All rights reserved. This material may not be published, broadcast, rewritten or redistributed. We strive to uphold our values for every story published.