New York — Nobody will say it to your face - but if you're job hunting and you're over 50, beware.
Many employers could be biased against you because of your age. Make a concerted effort to battle their presumptions.
Their minds are filled with stereotypes - that "old" means you'll have health problems, miss lots of work and be expensive to insure. That you'll have to be paid much more than a younger person who also could fill the position. That you're out of touch, a dinosaur - and who wants one of those clumping around the office?
"Age bias is rampant," said Betsy Cummings, author of "How to Find a Job After 50: From Part-Time to Full-Time, from Career Moves to New Careers," which Warner Business Books will publish this fall.
"Employers are sophisticated enough to know it's illegal to talk about the job applicant's age," Cummings explained. "Instead, they say things like, 'You're overqualified.'"
Prime hiring age for many companies is 25 to 39, said Renee Ward, founder of Seniors4Hire.org. Human resources executives tell her this time and again - not realizing she's an advocate for over-50 jobseekers who operates a Web site with job listings for them.
Americans are living longer - our average life expectancy has increased more than 50 percent in the past century, to 76 years from 49. Because we've shirked in saving or lost money in the stock market, many of us won't be financially ready to retire for a long time. We need to work.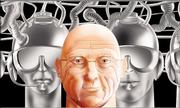 So don't despair - just be smart in your job search, experts said. Older people can get work. It just takes longer.
According to the U.S. Bureau of Labor Statistics, the median time to land a job is 10 weeks. For job hunters over age 55, it's 14 weeks.
"The biggest peril the over-55s face is discouragement," said Richard Bayer, chief operating officer of The Five O'Clock Club, an outplacement and job-search organization. "Don't let this become a self-fulfilling prophecy - it's just an extra four weeks."
Here are strategies for handling job interviews if you're over 50:
¢ "Be proactive. Stay one step ahead of your interviewer," Cummings said. Bring up subjects that make it clear you would be a great hire. For instance, tell anecdotes about the innovative things you've done in other jobs.
¢ Emphasize that you work well with people of all ages - even a younger boss.
¢ "Talk as if you're going to work a long time," Bayer advised. "Say, 'I see myself working another 20 years."'
¢ Get your youthfulness across. One over-50 told Bayer he took his gym bag to a job interview, and mentioned he'd be going to the gym later. Or talk about your athletic activities when the interviewer says, "Tell me about yourself."
¢ Watch your body language. Many older people don't look the interviewer in the eye if the person's obviously younger - which is "low self-esteem behavior," Ward said.
¢ Tidy up. A good haircut and an outfit from a "timeless shop" like Ann Taylor will work wonders, Cummings said. "Some people say it's superficial - but the reality is first impressions are so important," she explained.
¢ Make your resume work for you: Tailor it to only include details that are relevant to the job you're seeking, Bayer said. On your chronological listing of past jobs, just go back 15 years, Cummings said. Ward said 10 years is plenty long. List your college degrees - but don't note when they were awarded.
¢ When you're looking for job leads, pull out all the stops - just like younger people do: Network with other job seekers and hit up everyone you know for tips about who's hiring and join groups that will help you. Also, use the array of Web sites with job listings, or links to companies that want to hire older people - from www.AARP.org to www.Seniors4Hire.org.
¢ Remember to search for openings at small companies - they tend to be receptive to older job applicants. "They need someone who can hit the ground running," Bayer said.
Copyright 2017 The Lawrence Journal-World. All rights reserved. This material may not be published, broadcast, rewritten or redistributed. We strive to uphold our values for every story published.