Athens, Ga. — D.J. Shockley sat around four years waiting to become Georgia's No. 1 quarterback, which gave him plenty of time to dream big.
Even so, he never envisioned his first start going like this.
Shockley threw five touchdown passes and ran for another score, leading the 13th-ranked Bulldogs to a stunningly easy 48-13 victory over No. 18 Boise State on Saturday.
"It really hasn't hit me yet," Shockley said, surrounded by reporters and cameras in the locker room afterward. "There's no way I ever could have imagined something like this in my head. It's too big."
Across the room, one of his teammates yelled out, "Shockley for Heisman."
Meanwhile, Jared Zabransky and the high-scoring Broncos were totally overwhelmed by Georgia's revamped defense, which didn't seem to have any trouble replacing David Pollack, Thomas Davis and Odell Thurman, three defensive stars who moved on to the NFL, or coordinator Brian VanGorder, who also landed a job in the pros.
For Boise State, ranked in the preseason for the first time, the opener was a jarring lesson in big-time football.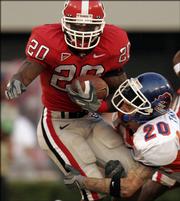 "We got spanked," coach Dan Hawkins said. "Georgia is a very good football team. That had a lot to do with it."
Shockley took over as the No. 1 quarterback after taking a red-shirt season his first year and backing up David Greene the last three seasons. The senior had big shoes to fill - Greene was the winningest quarterback in Division I-A history.
The Bulldogs didn't miss a beat with Shockley, who tied Greene's school record for touchdown passes in a game - in less than three quarters - and showed an ability to run that his predecessor lacked.
Shockley completed 16 of 24 passes for 289 yards - numbers that would have been even better without four dropped throws. He also rushed five times for a team-leading 85 yards, even though a 23-yarder was brought back.
Contrast those numbers with the ones put up by Zabransky: four interceptions, two fumbles and a benching just before halftime. Mentioned as a possible Heisman contender, his candidacy crumbled less than 30 minutes into the season.
"I could kind of tell that he was starting not to feel it," Hawkins said. "A lot had to do with his health. He was getting wiped out. It was just fatigue. The anxiety level was high."
Copyright 2018 The Associated Press. All rights reserved. This material may not be published, broadcast, rewritten or redistributed. We strive to uphold our values for every story published.