Kansas City, Mo. — Juan Dominguez is close to securing a spot in the Texas Rangers' rotation for next season.
Dominguez took a no-hit bid into the seventh inning in his fifth start of the season, leading the Rangers over the Kansas City Royals, 5-3.
Emil Brown singled to center leading off the seventh, and Dominguez (3-3) wound up allowing one run, two hits and four walks in 71â3 innings. He left after Aaron Guiel's double in the eighth.
Dominguez, a 25-year-old right-hander, is 3-1 with a 2.94 earned-run average since joining the Texas rotation Aug. 13. He is 3-0 with a 2.03 ERA in his past three starts.
"He was awfully sharp," Rangers manager Buck Showalter said. "Juan has been pitching well for a while now. He's put a lot of good starts back to back to back, which is good to see. It's a step in the right direction. He's got a lot of confidence. He's impressive. He has a lot of poise and presence. Every quality start a young pitcher has under his belt, the track record of having potential is there. It goes from potential to being more of a reality."
Brown hit a 2-1 breaking ball for Kansas City's first hit.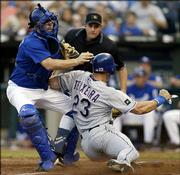 "I didn't care too much about the no-hitter," Brown said. "I knew he had one. I just wanted to get a hit for me. I hit a slider, kind of flat, didn't bite much. He mixed it up with a changeup, real good arm action with his changeup. I've never seen him before. Seeing what the scouting report is and actually facing him are two different things. He has a plus arm."
After Brown's single, Dominguez walked Matt Stairs, which prompted a visit from to Dominguez by pitching coach Orel Hershiser.
"I was more concerned about throwing quality innings," Dominguez said through an interpreter. "They came out and reminded him and got back on track. I was cruising along, very positive, and that happened, and I got mad at myself."
Adrian Gonzalez and David Dellucci homered for the Rangers, who lead the majors with 224. Michael Young, who started the day leading the AL in batting average, went 1-for-5 and dropped one point to .325.
Kansas City's D.J. Carrasco (5-8) gave up five runs on 10 hits and three walks in seven innings He is 0-4 in six starts since July 24.
"The way that guy was going, not giving up any hits for six innings, you can't give up any runs," Carrasco said. "I'd get two quick outs and they'd get selective. I'd fall behind in the count and they are an aggressive hitting team."
The Rangers' Rod Barajas, who had five home runs in the previous three games, left in the fifth inning after breaking a blood vessel on his right index finger while lining out to first base.
"He couldn't close his hand, couldn't grip the ball, so we had to get him out of there," Showalter said. "Rod told me he thought he'd be able to play Monday."
The Royals have lost eight of nine and 28 of 33, falling to a major-league-worst 43-91. Kansas City is 1-8 against Texas this season.
Copyright 2018 The Associated Press. All rights reserved. This material may not be published, broadcast, rewritten or redistributed. We strive to uphold our values for every story published.