While working near hurricane-ravaged New Orleans last week, Corinne Zimmers witnessed something that went against her instincts as a longtime emergency room nurse: a patient being shown the door into chaos.
After her first grueling 12-hour shift following Hurricane Katrina, Zimmers saw a woman have to leave the overcrowded Meadowcrest Hospital, about five miles southeast of downtown New Orleans.
The woman, who was a diabetic, was treated, ate and then was told to leave, Zimmers said.
"I held on to her, and I didn't think she would ever let go of me," she said. "Just to watch her walk down the road was horrible. Just to look at somebody and tell them to get out and go away, it was so sad."
Zimmers' two daughters, Hilary and Katie Smith, live in Lawrence, but Zimmers moved from the area to Louisiana in April.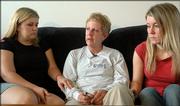 Six months later, Hurricane Katrina would arrive.
Zimmers was living in Slidell, La., northeast of New Orleans and across Lake Pontchartrain, with a friend who works for the Food and Drug Administration. Her friend evacuated before the hurricane hit, Zimmers said.
Zimmers had not yet moved many possessions to Louisiana, and she had no idea of the damage to her friend's home.
On Thursday as the hospital began to finally allow staff to leave, Zimmers started driving north. Her daughters also drove and met her Friday in Sherman, Texas, north of Dallas. They returned to Lawrence Friday evening.
Exhausted from the long trip and her nursing shifts, Zimmers checked herself into Lawrence Memorial Hospital for a short time Friday to be rehydrated.
The hospital had not allowed its staff to leave from Sunday through Thursday afternoon as part of emergency procedures.
Photo Gallery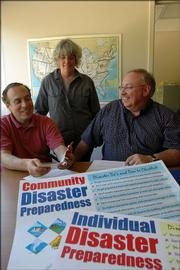 Hurricane Katrina
An endless line of patients, looters and even a near carjacking made for an emotional week.
"I came to work at last Sunday, and that's when they started tagging us with our body identification tags. It took me a while to realize that they put them on us in case we died," Zimmers said Saturday morning from her daughter's Lawrence apartment.
'The worst is yet to come'
During the storm Aug. 28, Zimmers watched roofs blow off houses.
After Katrina passed Monday morning, Zimmers thought it was over.
Then another nurse, Derick Witherwax, offered a prediction: "Baby, the worst is yet to come."
As the hospital operated on an electric generator, more patients arrived and those looking for shelter had to be turned away and pointed toward the Superdome or other public spaces that became makeshift refugee camps.
Zimmers tried to drink Gatorade to energize herself, she said. And she tried to keep her emotions in check, which was difficult.
"It was suffocating up there," she said of the hospital's upper floors.
She and other medical staff treated many for dehydration. They also had become frustrated with the limited work they could do as they days went on and supplies dwindled.
"I remember thinking, 'Get these people out of here, or they are all going to die,'" Zimmers said.
U.S. Coast Guard rescuers constantly brought in stranded and injured people as floodwaters receded around the hospital and about eight blocks around it, Zimmers said.
"We sat there for four days with no help whatsoever," she said. "I remember thinking 'Where's the National Guard and the (American) Red Cross?' We had nothing. The Coast Guard was dumping patients on us. We're a hospital not much bigger than Lawrence Memorial Hospital."
No contact
Hilary and Katie Smith agonized as they had little contact with their mother.
"I couldn't focus on anything at work," Hilary said.
"Her messages didn't comfort you at all either," Katie said.
But their mother's presence is now a deep comfort.
"I'm so glad to have her living next door, and I feel horrible for everybody down there," said Hilary with tears in her eyes as her mom kissed her forehead.
Hilary's co-workers from Security Benefit in Topeka gave the daughters $200 for gas money to meet their mother in Texas.
Looters and a rescue
Monday night, Zimmers said she heard a constant rattling as she tried to sleep.
"All night I heard grocery carts moving up and down the street from the Winn-Dixie store," she said.
Most of the Jefferson Parish Sheriff's officers told her they would not stop people from taking things they needed, such as water and food.
Tuesday happened to be Zimmers' birthday. A sheriff's officer brought her a present.
"I told him 'I'm running low on cigarettes and this is not a time to quit,'" she said.
As the week dragged on, some grew hostile toward authorities and eyed cars as prized possessions, she said.
When she was finally allowed to leave the hospital Thursday, Zimmers said a man snuck up on her as she tried to enter her car. At the same time, an officer pointed a rifle at the man, who backed off.
"I remember standing there and thinking 'I want out now,'" she said. "On the way home I remember thinking that I would run somebody over if I had to."
On her way out, Zimmers had little trouble with wet roads. She also saw some of the devastation wreaked on the city.
"It was just unbelievable," she said. "Some people have lost everything. Most people have lost their normal lives that we take for granted. It was like the end of the world."
Upon her return to Kansas, her old boss gave her back her former job as an ER nurse at Stormont-Vail Regional Health Center in Topeka, she said. She will start in two to three weeks and live with her daughters in Lawrence.
"It just seems like decades ago that I was down there," Zimmers said.
Copyright 2018 The Lawrence Journal-World. All rights reserved. This material may not be published, broadcast, rewritten or redistributed. We strive to uphold our values for every story published.