RICHMOND, VA. — When Mary Badham's mother took her to a 1961 cattle call for the film "To Kill a Mockingbird," the 9-year-old had almost no acting experience.
She made up for it at the audition in Birmingham, Ala., with innocence and a memorable Southern drawl - exactly what director Robert Mulligan and star Gregory Peck wanted.
Badham won the role of feisty 6-year-old tomboy Jean Louise "Scout" Finch, living in a Depression-era Alabama town. The screen version of Harper Lee's novel followed Scout and her father, Atticus, played by Peck, who agrees to defend a young black man accused of raping a white woman.
Today, Badham is a 52-year-old mother who works at a community college, does art restoration and is just now returning to acting. On the eve of Tuesday's DVD release of "Mockingbird," The Associated Press got to know Badham a little better by, as Atticus Finch would say, stepping inside her skin and walking around a little.
Q: Had you read the book before filming?
A: I didn't read the book until after I had my daughter (who is now 21) ... There was so much more information that wasn't included in the film. There were family members that I didn't know we had, some of which I think I could have done without. But we all have families like that. It was very, very good.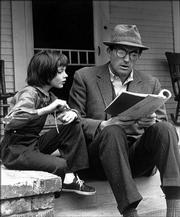 Q: How does the movie compare to the book?
A: It's a wonderful adaptation. Harper Lee and (screenwriter) Horton Foote were so together on this. Horton was from the South and from that era. He knew the sights, the sounds, the smells of the whole thing, and he loved the book. He was able to get to the essence of the book. And he did it admirably.
Q: And "Mockingbird" was pretty much your last movie as an actress?
A: The industry was changing so much. ... The scripts weren't as good. I was at that in-between age, I had hit 13, and that's a real tough age for an actress because you're not a child anymore but you're not a woman either, and they really don't know what to do for you. They weren't writing scripts for that age bracket. My dad and my mom were both very big on education. So, we had sort of a family meeting after I made "This Property Is Condemned," and it was pretty much jointly decided that I would retire and get an education.
Q: What do you do now?
A: I have a very normal life. I'm a mom, and I work for a local community college. I run the test center for the campus that I work on, and I do art restoration. And now I'm back in the movies again (a new film called "Our Very Own").
Q: Had you stayed in touch with Harper Lee, since you basically played her in the movie?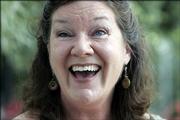 A: With Harper I don't. With Atticus, we stayed in touch. I was up at the house shortly before he passed away.
Q: You call him Atticus?
A: Yeah. I can't call him Greg, forget it. I can't call him Mr. Peck - that's too formal. He's just my Atticus. That's just the relationship that we had. He would call me on the phone and say, "Scout, Scout." That was who we were.
Q: What was it like working with him?
A: Wonderful. Oh, he was so sweet. I mean what you see up on the screen is what you get at home. He's just lovely. He was so stabilizing for me. He was such a great role model. I lost my father very early. My dad died when I was 21, and my mom died three weeks after I graduated high school. So, the Pecks really were a stabilizing force in my life. Atticus would call me, or I'd call him. When you're going through tough times, just hearing his voice on the other end of the line was very calming for me. I knew that he was there and everything was OK. I knew that the end was coming when he passed away, but it's hard nonetheless to say goodbye.
Copyright 2018 The Associated Press. All rights reserved. This material may not be published, broadcast, rewritten or redistributed. We strive to uphold our values for every story published.