St. Louis — Mike Martz, notoriously hard on his young quarterbacks, couldn't help but offer grudging praise for his rookie from Harvard.
Seventh-round draft pick Ryan Fitzpatrick was 12-for-22 for 195 yards, one interception and two touchdowns, including the 20-yard winner to Dane Looker with 3:42 left as the St. Louis Rams beat the Kansas City Chiefs, 27-23, Friday.
"I'm very pleased with him - don't tell him that," Martz said of Fitzpatrick. "My expectations for him are different than anybody else. I think he's special. Yeah, he made some mistakes, but he made some real big plays, too."
The Chiefs went 0-4 in the preseason for the first time since 2000, and have lost six straight preseason games, last winning Aug. 23, 2004, 24-7 over St. Louis.
"I'd rather win them," Kansas City coach Dick Vermeil said. "Winning is more fun."
The Rams (3-1) played on three days rest after beating Detroit, 37-13, Monday night. Backup quarterback Jamie Martin was 5-for-9 for 71 yards and an interception in a little less than two quarters before giving way to Fitzpatrick.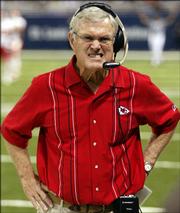 Fitzpatrick, who has all but certainly taken the No. 3 job from second-year quarterback Jeff Smoker, had a passer rating of 95.8. His night wasn't perfect: his second-quarter fumble led to a Kansas City touchdown, and his fourth-quarter interception led to a field goal that briefly put Kansas City ahead, 23-20.
But Fitzpatrick then led St. Louis on an 80-yard scoring drive, scrambling for a first-down on one play and improvising on another, scrambling out of the pocket and completing a 21-yard third-and-11 pass to Shaun McDonald. He connected with Looker on the winner on the next play.
Jonathan Quinn, signed just 10 days earlier, nearly was as good for the Chiefs, playing all but the last series as Trent Green, Todd Collins and Damon Huard all nursed injuries. Quinn was 13-for-20 for 197 yards, one touchdown and two interceptions. His quarterback rating was 74.4.
Quinn threw a 28-yard touchdown pass to Jeris McIntyre late in the second quarter. Third-string running back Dee Brown scored on a 4-yard run, and Lawrence Tynes kicked field goals of 37, 26 and 21 yards.
The game featured mostly bottom-of-the-roster players and vanilla schemes. Priest Holmes played less than a quarter, carrying six times for 13 yards. Tony Gonzalez caught one pass for 4 yards in a little over a quarter.
The Rams didn't play quarterback Marc Bulger or running back Marshall Faulk, while Steven Jackson (four carries for 9 yards) and receivers Torry Holt and Isaac Bruce played only the first series.
Louis offensive tackle Orlando Pace sprained his left ankle late in the second quarter. An X-ray was negative. Cornerback Travis Fisher sprained a knee. Neither is expected to miss the Sept. 11 opener at San Francisco.
Green has suffered from circulation problems in his lower left legs. Doctors this week placed a stent in an artery and put him on blood thinners. He is expected to play in the Sept. 11 opener against the New York Jets.
¢ Notes: Collins has a hand injury and probably won't be ready by the opener. It wasn't clear when Huard would return from a head injury. ... Before the game, the Chiefs released wide receiver Freddie Mitchell, who signed in March after being released by Philadelphia. Mitchell did not play in any preseason games because of a knee injury.
Copyright 2018 The Associated Press. All rights reserved. This material may not be published, broadcast, rewritten or redistributed. We strive to uphold our values for every story published.