The Rev. Jerry Johnston is thinking big when it comes to his new church in Lawrence.
His vision: A church built on 40 to 50 acres of land that has thousands of members. It would offer dozens of ministries, a rock band for college worship and sports leagues for all ages, all the while preaching a basic, evangelical Christian message.
Sounds ambitious? In less than a decade, Johnston has turned 51 acres of Overland Park ground into First Family Church, a congregation of 4,100 members and an annual budget of $7 million.
Now, he wants to build Lawrence's first megachurch.
"It's the difference of being a strip mall to a shopping mall," Johnston said, comparing smaller congregations to his church. "It's the Oak Park Mall compared to a strip mall. We're a megachurch."
First Family Church started Sunday evening worship services in Lawrence on Aug. 20. The first week was at Wescoe Hall on the Kansas University campus, but the service moved last Sunday to Lawrence High School, where it will meet at 6 p.m. for at least the next five weeks. No permanent home has been located.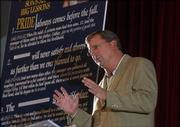 The congregation averaged 275 during the first two services, though some of those in attendance were recruited from the Overland Park location to serve as a base for the new church.
Johnston, 46, gained attention in the state as a leading supporter of a constitutional amendment, approved by voters earlier this year, that bans gay marriages in Kansas. Douglas County was the only county to vote against the amendment, but Johnston said that didn't have anything to do with his decision to build a church in Lawrence.
Rather, he said, the Lawrence church is the first step toward developing First Family Church satellite locations throughout the Kansas City metropolitan area. The church already streams its services live on the Internet and can be seen on TV stations in Kansas City, Wichita and Omaha, Neb.
Johnston is a former traveling minister who spoke in large churches across the country and has written eight books. He founded First Family Church, which is affiliated with the Southern Baptist Convention, in 1996.
Room for church?
First Family Church's entry into Lawrence has been the buzz among local pastoral circles since it did a postcard mass-mailing to Lawrence residents advertising its first service.
Megachurches are typically defined as having 2,000 or more weekly attendees. No church in Lawrence currently comes close to that.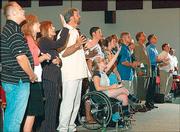 "This is the wave of the 21st century," said the Rev. Peter Luckey of Plymouth Congregational Church, 925 Vt. "I don't know why Lawrence would be any different from the country in terms of trends."
The Rev. Bill Bump, pastor at Lawrence Free Methodist Church, 3001 Lawrence Ave., said he saw nothing inherently wrong with megachurches. He said he'd like to grow his church into a megachurch and may be on the way, with 700 attending services weekly and plans for an expansion for children and youth ministry.
"In my opinion, 'megachurch' is not a bad term," Bump said. "Larger churches, as a rule, can have a wider range of ministries. A small church cannot offer some things. But some people choose the small church because they like to know everybody there."
Several pastors estimated only 10 percent of Lawrence residents attend church on a given week, and there are plenty of empty pews on Sunday mornings. Bump said he didn't know whether First Family Church would find the key to reaching those not currently affiliated with a church.
"Lawrence has a lot of good churches," Bump said. "I don't know Jerry Johnston, but I'd be interested to hear why they think Lawrence needs another church."
The Rev. Randy Beeman, pastor at First Christian Church, 1000 Ky., previously served at Hillcrest Christian Church, another megachurch in Overland Park. Though he said he hoped First Family Church succeeded, he said the danger with larger churches is some don't provide enough opportunities to members to make connections with others.
"One of the biggest challenges of a larger church is the assimilation process," he said. "You could walk in and walk out and never meet a person. That's a downfall to these large, event-driven organizations is they're not built relationally."
He said he wasn't concerned about losing members to First Family Church.
"I don't see Jerry as a threat," Beeman said. "He'll be reaching people in a different way. I can't reach everybody."
Johnston said he thought there was plenty of unfilled need for a new church. Though he said the focus would be on reaching those in Lawrence who don't currently attend church, he expects some of his new Lawrence congregation to come from existing churches.
"When people change churches, it's because they need a new chapter spiritually in their life," he said. "To me, that should be an incentive to a pastor to evaluate the quality of his ministry and not get mad at the new thing in town."
The plans
First Family Church's philosophy of getting new people through the doors is simple: Offer a variety of ministries and activities. The church also brings in guests such as Bobby Bowden, Florida State University football coach; Michael Irvin, former Dallas Cowboys wide receiver; and Randy Travis, country music singer.
"If I can't connect with declaration of the Gospel, I hope to connect with athleticism for children, marriage enrichment for young couples, success enrichment for businessmen," Johnston said. "I mean, there's just a hundred different ways to meet a need in someone's life or try to add value to their life, with an ultimate aim to get them into a personal relationship with Jesus Christ."
Johnston said he'd like to secure land in Lawrence and start building within a year.
Plans call for him to continue preaching at the Lawrence services on Sunday nights, in addition to the three services he leads in Overland Park on Sundays, which draw more than 2,200 weekly.
In three months, the church plans to start a midweek Bible study on Thursday nights. Activities for youths, college students and senior adults also are in the works and should be running in four months.
Eventually, Johnston plans to have a Sunday morning worship service in Lawrence, with a local praise band and minister. His sermon from Overland Park would be streamed in on a big screen.
Johnston's goal is to have 250 charter members of First Family Church-Lawrence by Oct. 23. He wants 450 members by this time next year.
'Here to stay'
Last Sunday evening, at First Family Church's second Lawrence service, 250 people swayed to the music of a praise band in the LHS auditorium. There were drums, a guitar, keyboard, singers and a projector with the lyrics.
"Folks, we're here to stay," said Christian Newsome, a pastor who will eventually be in charge of the Lawrence site. "We're dreaming big dreams."
The sleek worship style appealed to Doug and Jenny Timm, Lawrence residents who said they'd been looking for a church home.
"It seems like a lot of planning went into it," Doug Timm said. "They're on the ball. I think they're good people. They don't seem like they have ulterior motives."
Jim Erickson, a KU sophomore from Overland Park, said he thought Lawrence was ready for a megachurch. He got involved in First Family Church in Overland Park in the spring and now is helping organize its college ministry in Lawrence.
"It's a lot different from my church growing up, which was pretty boring," he said. "You see it as a megachurch, but it's a small, family atmosphere. There are so many ways to get involved. You'd have to try not to meet people."
Copyright 2018 The Lawrence Journal-World. All rights reserved. This material may not be published, broadcast, rewritten or redistributed. We strive to uphold our values for every story published.