Four sisters from a small town in north-central Kansas grew up and embarked on four very different paths. The eldest is a judge. The youngest a bridge builder. One was a speech therapist. The other leads an art museum.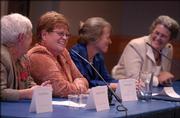 The Reece sisters gathered at the Kansas Union on Thursday to chat about their upbringing and their experiences at Kansas University, as part of a University Women's Club event.
The family includes Deanell R. Tacha, chief justice of the 10th Circuit Court of Appeals; Saralyn Reece Hardy, director of the Spencer Museum of Art; Mary Lou Reece, head of Reece Construction in Scandia; and Jane Ann Ewy, a retired speech therapist. The sisters spoke with their mother, Mary Nell Reece, a former Republican Committee member. All are KU alumnae.
"These are very interesting people who I've had the pleasure of growing up with," Hardy said.
Tacha called herself the boss among her siblings. Mary Lou Reece said she was the tomboy. Ewy described herself as the helper. Hardy said she was creative.
Their parents supported their efforts. The sisters visited Europe when they were young. The women said they were encouraged to work hard, volunteer and contribute to the community.
"If there was something to achieve, I thought, 'by golly, I'm going to achieve it,'" Tacha said.
Copyright 2017 The Lawrence Journal-World. All rights reserved. This material may not be published, broadcast, rewritten or redistributed. We strive to uphold our values for every story published.