Topeka — Gov. Kathleen Sebelius on Thursday deployed more than 120 Kansas National Guard soldiers to Louisiana to help in the recovery from Hurricane Katrina and took steps to prepare the state to receive storm refugees.
"We in Kansas have a long tradition of helping neighbors in need, regardless of whether they are in town or across the country," Sebelius said.
Sebelius sent troops from the 35th Infantry Division, headquartered at Fort Leavenworth, and two Blackhawk helicopters. The division includes personnel from Kansas, Missouri and Illinois.
"Our guardsmen and women tell me they are ready to go and do whatever is needed to help the victims get back on their feet," she said.
Maj. Gen. Tod Bunting, the adjutant general and director of Kansas Emergency Management and Kansas Homeland Security, said about 700 more guardsmen were on standby ready to go if needed.
"What we told all of our soldiers and airmen is you will likely have a chance to spend some time in Mississippi and Louisiana in the years and months ahead," Bunting said.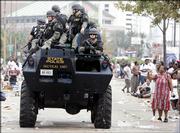 Sebelius also declared Kansas in a state of disaster in anticipation of requests to provide housing for people displaced by the storm. Sebelius said the proclamation was needed to facilitate assistance and to get reimbursed for the effort from the federal government.
With estimates of one million people needing shelter, Sebelius said she expected some of them will come to Kansas.
Coordination
But the critical factor was to try to coordinate efforts with the stricken states and not hinder the recovery by sending personnel without a plan, she said.
Bunting said guard leaders across the nation were presenting their inventories of troops and assets so that officials in states hit by Katrina could pick what they need.
"An analogy would be like stocking it on a shelf, and if Mississippi or Louisiana see something that they want, they literally just take it off the shelf and say 'thank you, Kansas.'
Relief
To help coordinate the Kansas effort to assist hurricane relief, Gov. Kathleen Sebelius said groups and communities wanting to donate a resource or provide shelter and housing for people should contact the state's emergency management division at (785) 274-1405 or (785) 274-1425 between 6 a.m. and 6 p.m.
"We all want to go ... but it has to be in a coordinated way," he said.
Sebelius said she spoke with Louisiana Gov. Kathleen Blanco and Mississippi Gov. Haley Barbour, and both indicated they will be calling on states to help out for months to come.
Sebelius also noted that efforts were under way across Kansas to assist in the recovery.
Companies such as Westar Energy were sending crews to New Orleans, just as Louisiana-based Entergy has sent crews to Kansas during ice storms. Communities were also committing space to take in those now homeless.
And Kansas universities and colleges were accepting students who had been enrolled in schools that are shut down because of the storm.
Photo Gallery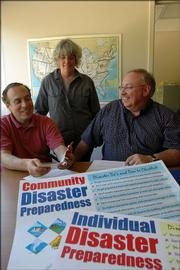 Hurricane Katrina
Gouging
Sebelius also cautioned Kansans to be on the lookout for price-gouging at gasoline stations and to report any outlandish prices to the attorney general's office.
"Unfortunately, disasters do bring out the best and the worst in people. The ripple effects of this hurricane are felt here already in the heartland, and already high gas prices are soaring," Sebelius said.
Sebelius also signed executive orders allowing any oversized trucks with rescue equipment or supplies to travel through Kansas and giving disaster leave to any state employees certified and called by the American Red Cross to help in the disaster relief.
Watching the destruction displayed on television, Sebelius said, "It breaks my heart."
Copyright 2018 The Lawrence Journal-World. All rights reserved. This material may not be published, broadcast, rewritten or redistributed. We strive to uphold our values for every story published.