San Francisco — Consumers had to suffer through yet another day with record retail gasoline prices on Thursday, and analysts said there's no letup yet in sight.
At the retail level, the average U.S. price for regular unleaded gasoline hit a new record of $2.68 a gallon, surpassing the previous high of $2.619 a gallon hit the previous day, according to AAA.
Prices are up 44.3 percent from a year ago.
"Gasoline will still be scarce, highly prized, and terribly volatile in the next few weeks," said Tom Kloza, chief oil analyst at the Oil Price Information Service.
The Colonial and Plantation pipelines - two key arteries carrying the majority of gasoline, diesel and jet fuel to the Southeast, Mid-Atlantic, and Northeast states - are restarting, "but (it's) not clear when the barrels (will) make the trip to starved areas," he said.
The Colonial was operating at around 750,000 barrels per day, but its capacity is 2.4 million, according to the Energy Department.
"Lots of blue sky prognostications out there, some of the 'spin' is aimed at calming down the public," Kloza said.
Prices have already topped $5 in some areas closest to Hurricane Katrina's devastation, sparking accusations of price gouging, long lines at gas stations, and concerns over possible shortages, according to news reports.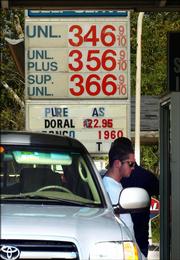 "We have seen wholesale prices as low as $2.05 a gallon this week and as high as $3.25 a gallon," said Kloza. "So anyone posting $4 a gallon is a bit off the charts."
Even before Hurricane Katrina hit earlier this week, the one element in the market that "labored under terrific stress was the refining infrastructure and that has borne the full brunt of the storm," said Michael Fitzpatrick, an analyst at Fimat USA.
"Some refineries may be able to restart operations within one to two weeks, but others may take 'several months' to resume making gasoline and other petroleum products," he said.
It may turn out that the actual damage to the refineries is "not catastrophic," but getting electricity to the refiners could take at least several days, and even then, operating rates might be very low," he added.
"The Katrina disaster only spotlights what has been a growing market reality - the U.S. has very little spare refinery capacity and its energy infrastructure was very vulnerable to this current scenario," said Evangelos Pistiolis, chief executive of Top Tankers Inc., an Athens-based carrier of crude oil and oil products.
The U.S. imports more than half of its product, and this figure should become even higher over the next few months, Pistiolis said.
Copyright 2018 The Lawrence Journal-World. All rights reserved. This material may not be published, broadcast, rewritten or redistributed. We strive to uphold our values for every story published.