New Orleans — Federal and local authorities struggled Thursday to regain control of this ruined and lawless city, where tens of thousands of desperate refugees remained stranded with little hope of rescue and rapidly diminishing supplies of food and drinking water.
"This is a desperate SOS," New Orleans' beleaguered mayor, Ray Nagin, said at one point in the day.
The chaos that has gripped New Orleans in the wake of Hurricane Katrina also showed signs Thursday of spreading to Baton Rouge and along the storm-ravaged Gulf Coast, as weary refugees continued their slow and confused exodus to higher ground. Fresh waves of National Guard troops began pouring into the region in an attempt to quell the unrest, but large swaths of New Orleans and other sodden areas remained essentially ungoverned.
By the end of the day, the American Red Cross announced that its hurricane shelters in seven states were full, with an estimated 76,000 refugees at facilities in Louisiana, Mississippi, Alabama, Florida, Georgia, Texas and Arkansas. The official death toll in Mississippi climbed to more than 100, while officials in Louisiana repeated warnings that thousands could be dead in New Orleans alone. The Energy Department said about 1.8 million customers remained without power because of Katrina.
Photo Gallery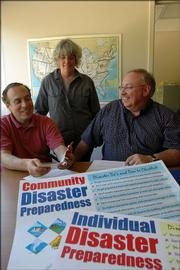 Hurricane Katrina
Those left behind in the Crescent City, including many with diabetes and other worsening health conditions, clung to rooftops, gathered on overpasses and bridges and huddled on islands of dry ground waiting for help that never came. Parents carried small children while grown children carried their elderly parents through the flotsam. Corpses floated in fetid waters and laid amid the crowds of refugees, while helicopters airlifted hundreds of seriously ill patients to a makeshift field hospital at the city's airport.
At the storm-damaged Superdome, faltering efforts to transport up to 23,000 refugees to the Astrodome in Houston were temporarily halted after a gunshot was reportedly fired at a military helicopter and authorities continued to struggle with incidents of looting, carjackings and other violence.
The deepening crisis prompted urgent pleas for help from local officials and residents, many of whom pointedly criticized the federal government for a meager and slow response.
In Washington, President Bush and his aides said the government acted as quickly as possible and announced a range of stepped-up response plans, including promises of thousands of extra troops and billions of dollars for recovery and rebuilding efforts. Congress returned early from its summer recess to consider emergency legislation for up to $10.5 billion in immediate aid.
Bush urged Americans to curb gasoline consumption to ease the impact of refineries crippled by the storm. He also warned Gulf Coast residents, including those searching for water and food, not to break into businesses or commit other crimes during the crisis.
"There ought to be zero tolerance of people breaking the law during an emergency such as this," Bush said in an interview on ABC's "Good Morning America."
"If people need water and food, we're going to do everything we can to get them water and food," Bush said. "It's very important for the citizens in all affected areas to take personal responsibility and assume a kind of a civic sense of responsibility so that the situation doesn't get out of hand, so people don't exploit the vulnerable."
The calls for calm came amid increasing signs of unrest among the refugees who remain stranded in New Orleans and continued engineering difficulties that have kept 80 percent of the city flooded for more than three days.
Late Thursday, a team of local contractors hired by the U.S. Army Corps of Engineers began driving a set of steel pilings into the 700-foot breach in the 17th Street canal levee, the principal source of floodwaters in Katrina's aftermath. State officials said the breach will be closed by Saturday, enabling engineers to start draining the city dry - providing that the pumps can be put in working order. Corps officials apparently scrapped earlier plans to bring in sand bags and other items by barge or helicopter.
One of the most squalid and desperate situations unfolded Thursday at the city's fetid Ernest M. Morial Convention Center, where thousands had assembled over the preceding two days but which, as of Thursday evening, still had no visible government presence. A half dozen buses arrived at one point to take a small number of refugees, but none had come since, according to the stranded residents and tourists.
The center itself, dark and powerless, was rank with sewage and trash and avoided by most of the crowds, who milled around outside. As many as seven corpses laid out in the open amid wailing babies and other refugees, according to witnesses and news reports, including one dead man covered in a blue tarp in the middle of a street.
Desperate refugees at one point broke into the center's food service area to retrieve water and other goods, and the crowds have been roiled by fights and at least one gunshot, according to interviews. Some food rations finally arrived Thursday, dropped by helicopter.
With no buses in sight earlier Thursday, Nagin gave the refugees permission to march across a nearby bridge to dry ground in search of aid. The mayor also issued a plea for help on CNN: "Right now we are out of resources at the convention center and don't anticipate enough buses. We need buses. Currently the convention center is unsanitary and unsafe, and we're running out of supplies."
Later in the day, thousands remained at the center while hundreds more wandered roadways looking for a way out. Some were lucky enough to be picked up by National Guard trucks.
"This is a horrible tragedy and an unconscionable way to treat human beings," said Davonna Good, of Sacramento, Calif., who spent two days at the convention center site.
Throughout the ravaged city, frustrated residents complained that no one seemed to be in charge.
"We've been trying to get out," said Cornelius Washington as he walked along a highway overpass near the Superdome. "No one is giving the who, what, where, why and when. When they give us information, it's about what they're not going to do."
Amid signs of growing lawlessness, with looters roaming the city with impunity, heavily armed state and local police made a show of force in some places. Police in body armor and carrying shotguns and assault rifles were posted in the French Quarter and other parts of downtown to try to keep order.
Angry crowds have repeatedly shot at rescue services. Pilots with a private rescue service were fired on when they tried to airdrop supplies at Kenner Memorial Hospital on Wednesday evening.
"There was 75 to 100 people surrounding the helipad and several of them had guns," said Richard Zuschlag, chief executive officer and chairman of Acadian Ambulance Services. "The pilot became concerned that that was an unsafe environment to land in and so he went on to anther location."
Zuschlag said his company, with 25 civilian choppers, rescued 500 patients from New Orleans hospitals Thursday but that an estimated 1,500 remained at three more medical facilities and rescue operations were being severely hampered by security.
"Both mornings we have tried to go to Charity Hospital by boat and each time we have been shot at so we determined it wasn't safe. The doctor there has 500 people inside his hospital, and he is going berserk."
Ninety miles away in Baton Rouge, officials scrambled to accommodate hundreds of thousands of refugees that are predicted to eventually make their way to Louisiana's capital. Police already have implemented a 10 p.m. curfew for fuel purchases amid reports of attempted carjackings at gas stations, while local officials struggle with widespread power outages and water shortages from the storm.
In Texas, officials announced they could accommodate up to 75,000 refugees from Katrina, including thousands being bused to Houston from New Orleans' Superdome and others to be housed in Dallas and San Antonio.
At a Pentagon briefing, Army Lt. Gen. Russel Honore, the commander of a hastily formed military unit called Task Force Katrina, said National Guard forces - now numbering 4,700 in Louisiana and 2,700 in Mississippi - will be strengthened to a combined 24,000 over the next three days. Eventually, 30,000 troops should be in the region, officials said.
A total of about 7,200 active-duty forces have been dispatched, most of them Navy personnel aboard seven ships. Early Thursday, the Pentagon announced that among the ships would be an aircraft carrier, the USS Harry S. Truman, to serve as a floating command center for relief operations. Additional assets that defense officials said might be sent include field hospitals, reconnaissance aircraft and more evacuation vehicles.
But it is Guard troops who are central to law enforcement aspects of the relief effort because of legal constraints on active-duty forces performing such functions. By late Thursday, the number of Guard forces in Louisiana and Mississippi was due to top 13,000. Another 12,000 were expected by the weekend.
But among those complaining about the pace of National Guard efforts was a top Salvation Army official, Major Dalton Cunningham, who warned that some staff and refugees still trapped by floodwaters in the group's own building in New Orleans could die if the timetable for rescuing them did not change.
Cunningham said a Guard representative told the group Thursday afternoon that it could be days before they would evacuate the 200 or so people stranded in the Salvation Army building on South Claiborne Avenue.
"They said they're doing it by quadrant, and we'll just have to take a number and get in line," Cunningham said. "They are there without food. Some were on dialysis and needed medical attention. ... Their lives are threatened. I'm not even sure they'll be alive when we get there."
Copyright 2017 The Lawrence Journal-World. All rights reserved. This material may not be published, broadcast, rewritten or redistributed. We strive to uphold our values for every story published.