Manhattan — With the wind at his back, all Mason Crosby wanted was a chance to put his strong right leg to work.
He just didn't expect that chance to come as quickly as it did.
"I was thinking probably overtime, but I was prepared," Crosby said Saturday after his 50-yard field goal with six seconds left lifted Colorado to a 23-20 victory over Kansas State and gave the Buffaloes sole possession of the Big 12 North lead.
Joel Klatt threw for 272 yards and one TD and became the career passing leader - his 32nd school record - for Colorado, the defending North champions. Missouri, next week's opponent for the Buffaloes, dropped a game off the lead with a 13-3 loss at Kansas University.
Coach Gary Barnett wasn't thinking about the division race, though.
"I'm just so thankful to get out of here with a win," he said. "I'll think about that tomorrow."
The Buffaloes went three-and-out with just over a minute left, but Kansas State's Jermaine Moreira muffed John Torp's bouncing punt, and Terry Washington recovered for Colorado at the Wildcats' 26 with 55 seconds remaining.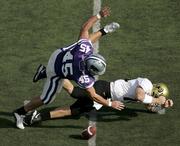 "I think I heard my heart crack," Kansas State defensive end Tearrius George said. "But we win as a team; we lose as a team. His mistake is my mistake. I can't single any one person out or any one play out."
It was even tougher for safety Marcus Watts to take. He made a diving grab for Klatt's pass on the play before the punt, but it was ruled incomplete.
"I felt like I intercepted that ball. I felt like it hit my hands before it hit the ground," Watts said. "I had my hands underneath it. It's a tough call for the officials, I understand that - but it's tough when you've stopped them, they have to punt and it looks like it's going to go into overtime at the least."
Crosby's winning kick, pushed by a stiff south wind, was his third field goal of the game and his second from 50 yards or longer. He hit a 52-yarder in the second quarter for the Buffaloes (6-2 overall, 4-1 Big 12), who won despite committing 116 yards in penalties.
Kansas State (4-4, 1-4) lost its third straight and dropped back-to-back home games for the first time since 1989, Bill Snyder's first season as coach. The Wildcats, whose last two losses came by a total of five points, must win two of their last three - with two of those games on the road, at Nebraska and Iowa State - to avoid sitting out consecutive bowl seasons for the first time since 1991-92.
The game was delayed six minutes after Washington's recovery because Moreira was injured in the scramble for the ball and had to be taken out of KSU Stadium by ambulance. His condition was not immediately available, but Snyder said Moreira was responsive before he left the field.
When play resumed, Klatt took a knee twice - losing a total of seven yards - before Crosby's game-winner.
Copyright 2018 The Associated Press. All rights reserved. This material may not be published, broadcast, rewritten or redistributed. We strive to uphold our values for every story published.