Alysha Valencia and Kelly Renfro couldn't be more different.
Valencia, a Free State High senior, is a talkative free spirit, eagerly pulling on a fuzzy pink hat before chatting it up with a reporter.
Renfro, a Lawrence High sophomore, is the quiet, reserved type, at times barely audible when asked to discuss her most recent performance.
What the two have in common is a still unblemished string of top-10 finishes at the Class 6A state cross country championships.
Valencia finished her career a perfect 4-for-4 Saturday at Rim Rock Farm, leading all local finishers with a sixth-place finish in the 4K race, crossing the finish line in 15 minutes, 22 seconds before briefly collapsing in the runners' cool-down area.
She adds a second sixth-place medal to the one she won as a sophomore, as well as the two fifth-place medallions she earned as a freshman and as a junior.
"I am so excited. I've had a rough year this year, just trying to hold on," Valencia said. "I've never actually put myself out there on the line completely. I just went all out. ... This is the best race I've ever had."
Photo Gallery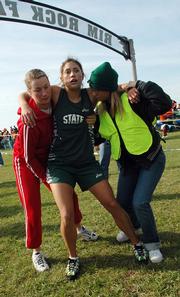 2005 6A State High School Cross Country Championships
A mere seven seconds later, Renfro chalked up her second top-10 finish in as many attempts, taking eighth in 15:29. She took ninth last fall as a freshman.
"That's what I wanted to do - come here and place higher than I did last year," Renfro said. "At the end, I got a little bit tired, but I pushed it up the hills (and) I didn't fade. I kept my place."
The spot between Valencia and Renfro on the final leaderboard went to another local runner with aspirations of recording nothing but elite finishes at the state level, as freshman Kyra Kilwein took seventh in 15:24.
"I'm thankful that I finished strong, and I'm so thankful that I had great seniors who were leaders to me," Kilwein said.
While Free State placed two runners in the top 10, Lawrence utilized greater balance to finish higher on the team leaderboard. The Lions took fifth with 127 points - improving on last year's ninth-place showing - while the Firebirds claimed seventh with 150 points.
"We've got a good future ahead of us, is what I'm looking at," said LHS coach Chip Anderson, whose top six placers were all underclassmen.
"The girls had a great finish. ... They finished real strong."
Shawnee Mission Northwest won the team race with 92 points, while Blue Valley Northwest sophomore Laura Roxberg repeated as the individual champ with a time of 14:50 - 19 seconds ahead of the nearest competitor.
In the Class 5A championships, also held at Rim Rock, Mill Valley senior Emily Gilbreath earned a medal, finishing 12th on the 3,200-meter course in 12:37. Her performance led the Jaguars to eighth place in the team race with 193 points.
Ottawa junior Stephanie Lillie took 47th in 13:16 to lead the Cyclones to 12th place in the team standings with 324 points.
Topeka Seaman won the team title with 57 points, while Emporia sophomore Michaela won the individual race in 11:55.
Copyright 2018 The Lawrence Journal-World. All rights reserved. This material may not be published, broadcast, rewritten or redistributed. We strive to uphold our values for every story published.