STANFORD, CALIF. — Maurice Drew and Marcedes Lewis sat at their lockers and looked at each other in disbelief. UCLA was down and disheveled at halftime, its powerful offense sputtering and its perfect season in big trouble.
Two hours later, Drew and Lewis looked at each other again with even more amazement - because UCLA still was unbeaten, thanks to the cardiac Bruins' most unlikely escape yet.
Brandon Breazell caught a 23-yard TD pass from Drew Olson in overtime after No. 8 UCLA scored 21 points in the final 7:04 of regulation to stun Stanford, 30-27, on Saturday.
UCLA (8-0 overall, 4-0 Pac-10) has specialized in fantastic finishes during conference play, rallying from double-digit deficits against Washington, California and Washington State earlier in October - but none was as dramatic or unlikely as the Bruins' escape from Stanford Stadium.
"It doesn't seem real. I still can't believe what we did," said Drew, who ran for two late scores, including a one-yard tumble across the goal line with 46 seconds left to force OT.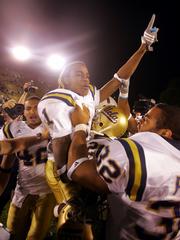 UCLA stayed among the five unbeatens in major-college football after Georgia lost to Florida. The Bruins still must face Arizona, Arizona State and top-ranked USC.
Olson, soundly outplayed in the first 52 minutes by workout buddy Trent Edwards, went 24-of-35 for 293 yards and two TDs while leading his latest jaw-dropping comeback. He led fourth-quarter scoring drives of 65, 72 and 66 yards - and all three took a combined 3:40.
Edwards passed for 169 yards and two scores for the Cardinal (4-3, 3-2), who blew a golden opportunity to make a national mark in their first season under new coach Walt Harris.
"We played gallantly," Harris said. "They're undefeated and have all these comebacks because they're good. We let them off the hook. ... We had a victory taken away from us by ourselves."
Copyright 2018 The Associated Press. All rights reserved. This material may not be published, broadcast, rewritten or redistributed. We strive to uphold our values for every story published.