Harassed by Kansas University's football defense for three-plus hours, Missouri quarterback Brad Smith faced a similar assault from the media late Saturday afternoon at Memorial Stadium.
Pinned against a wall by a swarm of reporters after a 13-3 loss to rival KU, the most productive QB in Missouri history was asked if, late in the game, he was afraid he'd be hooked by coach Gary Pinkel for freshman backup signal-caller Chase Daniel.
"No, I didn't worry about that. I was focusing on the game," Smith said politely, not reminding the inquisitor he had been referred to as one of Mizzou's "football legends" in the Tigers' pregame press packet.
The same Smith - a week ago he became the first QB in NCAA Div. I-A history to rush and pass for more than 230 yards in a game - Saturday was held to 38 rushing yards off 20 carries.
He completed 14 of 37 passes for 141 yards and failed to lead a TD drive after contributing to 106 points in victories over Oklahoma State, Iowa State and Nebraska the past three weeks.
"No, no, definitely not," Smith said, asked if he thought any team on the schedule could hold the Tigers to just three points. "It's unbelievable."
Photo Gallery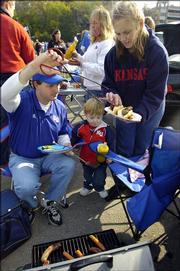 KU vs. Missouri
Smith, a 6-foot-3, 210-pound senior, entered needing 43 rushing yards to break the all-time NCAA rushing record for quarterbacks.
The Smith-led Tigers managed 180 yards after blitzing Nebraska for 523 in MU's 41-24 victory a week ago in Columbia, Mo. In that game, Smith set an all-time MU record for total yards: 480.
"It's a humbling experience. As much as we hate it, it's a learning experience," said Smith, who said he had no explanation for his 1-3 career record versus KU. "I've got to see it on film, but it seems they put themselves in good position every time. There's not much to say. They find a way to make plays."
Smith went out of his way to shake hands with several of KU's defenders while exiting the field.
"I told them, 'Good job.' They played well," he said.
Was it the best defense the Tigers had faced this season?
"They played like it," Smith said.
Pinkel bemoaned Tiger mistakes - MU had 92 yards in penalties - but also credited the Jayhawks.
"We knew coming in they were a great defensive football team," Pinkel said. "We expected and we wanted to move the ball. It's very frustrating.
"No question in my mind the players were ready to play. No question. You've got to give them (Jayhawks) some credit. They played well and did the things necessary to win."
Pinkel also was asked if he considered hooking Smith.
"No," he said.
"Why?" was a reporter's follow-up question.
"We just didn't : we didn't talk about it," the coach said.
The Tigers graciously praised the Jayhawks in interviews outside the visitors' locker room.
"They ran. They tackled. They hit harder," running back Tony Temple said. "It's surprising, because we execute all week, try to put it together, then don't do it."
"They played with great emotion," defensive back Darnell Terrell said. "They played their hearts out today."
Copyright 2018 The Lawrence Journal-World. All rights reserved. This material may not be published, broadcast, rewritten or redistributed. We strive to uphold our values for every story published.