Just when you thought it was safe to embrace a seemingly emerging Mizzou football team, the trap door flew open Saturday in exasperating fashion at the most miserable of sites for Tigers fans.
Mizzou was perched one victory away from its fourth bowl berth since 1983, tied for first place in the Big 12 North and on the cusp of its first four-game conference winning streak since joining the Big 12 Conference in 1996. It had infinite incentive.
The Tigers also seemed to have an enormous advantage over Kansas University - the loser of four in a row, outscored 105-36 in the process and featuring a starting quarterback whose best other scholarship option was to go to Michigan State : to play violin.
Consider, too, that the loathed Jayhawks had embarrassed MU the last two seasons and won six of the last seven in Lawrence, and you might think the Tigers would come out snorting and frothing.
Photo Gallery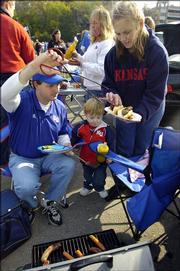 KU vs. Missouri
Instead, there was this: a numbing 13-3 loss to the Jayhawks, punctuated by an offense that produced 180 yards a week after quarterback Brad Smith accounted for 480 himself against Nebraska.
"It just comes down to focus for us," Smith said, "and we didn't have it."
Beyond the question of how that could be, perhaps more disturbing is the idea that an otherwise-sputtering Kansas team - 3-15 in Big 12 games not involving MU the last three years - smothered MU's offense. Again.
Sure, the Jayhawks were second in the nation in rushing defense entering the game. But even KU coach Mark Mangino was astonished by his team's dominance.
"Until today, I had never been around a defensive unit that executed their game plan exactly the way that we set it up," Mangino said. "It was nearly flawless."
Whether it was more KU or MU's doing, the fact is MU's offensive package was deficient against Kansas, which has allowed MU a combined 31 points in their last three meetings.
And the fact is that Missouri's insistence on all Brad Smith, all the time, was problematic Saturday.
Smith is a rare and mesmerizing athlete with the capacity to astonish. But he is human, and he has limitations.
If Missouri has 69 offensive plays and Smith runs or throws on 57 of them, as he did Saturday, the imbalance makes MU too predictable, demands too much of Smith, and leaves MU backs with no sense of place or pace.
After getting just seven rushes Saturday, for example, the backs have had 32 in three games. Some of that has been situational, some because Smith has at moments been unstoppable, but add it up and it spells obvious and makes MU vulnerable.
And inflexible.
Even after his pitch was plucked by KU's Aqib Talib to set up a KU touchdown : even after the interception he threw at the goal line on a day he went 14 for 37 ... even after MU had only a field goal on the first 11 drives he commanded ...
Freshman Chase Daniel, a superior passer, stood on the sideline. And stood. And stood.
Coach Gary Pinkel said he didn't consider inserting Daniel when MU got its final possession with 6 minutes, 14 seconds left.
That's Pinkel's prerogative, of course, and his reasoning is rational as he weighs the psyche of his team and his star.
For a coach there is a fine line between wisely staying the course and being obstinate.
But wasn't there an in-between place, one that says Smith still is the man but that Daniel was the one who could give MU the best shot at that time?
Putting in Daniel may well have produced nothing, and it's worth remembering that the most popular player on campus always is the No. 2 quarterback.
But as MU enters a defining three-game stretch, Pinkel is in a pickle when it comes to how to handle Smith and galvanize a team that inexplicably wasn't zeroed in on a day it had everything to play for.
Copyright 2018 The Lawrence Journal-World. All rights reserved. This material may not be published, broadcast, rewritten or redistributed. We strive to uphold our values for every story published.