Minneapolis — No. 12 Ohio State showed off its speed on Minnesota's fast track.
By beating the Gophers in a game of catch-us-if-you-can on the Metrodome's artificial turf, the Buckeyes stayed in step in the congested Big Ten race.
Antonio Pittman rushed for two second-half touchdowns and a career-high 186 yards, springing Ohio State to a 45-31 victory Saturday over Minnesota.
"He showed how fast he really is," Buckeyes receiver Anthony Gonzalez said. "We all knew that, but hopefully everybody else realizes that now as well."
The teams combined for 1,027 yards of offense, and that didn't include Ted Ginn Jr.'s 100-yard kickoff return for a touchdown that gave Ohio State (6-2 overall, 4-1 Big Ten) a 17-7 lead late in the first quarter.
The Gophers (5-3, 2-3) totaled 578 yards against the conference's leading defense, the second-most allowed in Buckeyes history behind Illinois' 659 yards in 1980.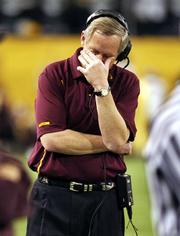 Ohio State, which entered the game as one of four teams with one loss in conference play, won its third straight since losing at Penn State.
"Lately, for whatever reason, we haven't been playing as well on the road," Gonzalez said. "This was a big step for us."
Buoyed by an average starting field position at their own 44, Ohio State's offense bailed out its defensive teammates and broke open the game in the third quarter. Pittman's 67-yard burst up the middle, his first score of the season, put the Buckeyes up for good, 24-17.
Nobody touched him.
"The offensive line did their job and opened up so many holes for me," Pittman said. "I had no choice but to run through them."
Troy Smith completed 14 of 20 passes for 233 yards and three scores, two to Santonio Holmes. Long known for a grind-it-out style, Ohio State seems to have found its stride with a remarkably balanced attack.
"I've been coaching long enough that I've seen some guys that will turn your hair gray," said Gophers coach Glen Mason, whose team came back to the Metrodome hoping to make up for a 38-34 loss to Wisconsin on Oct. 15 when the Badgers blocked a punt for a touchdown with 30 seconds left.
Copyright 2018 The Associated Press. All rights reserved. This material may not be published, broadcast, rewritten or redistributed. We strive to uphold our values for every story published.