¢ Kansas University fans stormed the field for the third straight year, running off with goalposts that already were taken down by KU officials. KU fans also threw the posts in Potter Lake after beating Missouri in 2003 and Kansas State in 2004.
KU coach Mark Mangino discouraged the ritual after the game.
"We don't need to do that," Mangino said. "We've won this game three years in a row now. We need to act like we've been there before."
KU officials said the cost of the two sets of posts was $7,500.
A college-aged female was injured when a post fell on her foot.
¢ KU wore red tops for the second time this season. KU beat Louisiana Tech, 34-14, on Sept. 17 wearing red jerseys.
¢ Freshman Anthony Collins started at right tackle in place of Matt Thompson and alongside freshman Ryan Cantrell at guard. After a 15-yard personal-foul penalty in the first quarter, though, Collins came out, and Thompson played the rest of the game.
¢ KU started with a four-wide set that featured Charles Gordon, Mark Simmons, Brian Murph and Dominic Roux.
¢ Former KU safety/quarterback Nolan Cromwell was honored at halftime and added to the Ring of Honor. Saturday's game was the first college football game Cromwell had attended since his KU days.
¢ A third-quarter punt by Missouri took a short bounce before thwacking back judge Mark Johnson inside the five-yard line. It almost stopped the ball from rolling into the end zone, but it did end up being a touchback, preventing a tar and feathering.
Photo Gallery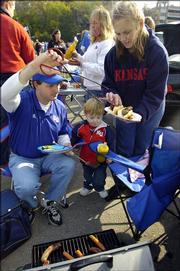 KU vs. Missouri
¢ Mark Simmons had two fourth-quarter receptions against Missouri, giving him 32 straight games with a reception.
¢ Both kickers - MU's Adam Crossett and KU's Scott Webb - missed long field-goal attempts Saturday. Crossett had a 47-yarder go wide-left, while Webb had plenty of leg on a 51-yard attempt, but it sailed wide-right.
¢ Thanks to 208 yards rushing on 49 attempts, KU won the time-of-possession battle for the second straight week. Kansas kept the ball for 34:47 compared to 25:13 for Mizzou.
¢ KU was credited with nine tackles for a loss Saturday - two each by Banks Floodman, Charlton Keith, Theo Baines and Paul Como, and one by Aqib Talib. Only two were sacks, though - both by Keith.
¢ KU quarterback Jason Swanson threw for just 90 yards on 12-of-19 passing, including two interceptions. With the run game producing, though, his performance wasn't nearly as crucial.
"I could throw 1-for-22, but if we come out with a win, I am the happiest guy on the field," Swanson said.
¢ Kansas converted eight of 16 third downs, compared to four of 17 for Missouri.
¢ Giving up just 33 yards rushing against Missouri, the Jayhawks have allowed just 69.5 yards rushing per game, one of the best marks in the NCAA.
¢ Mark Mangino is now 3-1 all-time against Missouri, losing 36-12 in his debut season of 2002. Gary Pinkel is 2-3 against the Jayhawks.
¢ Freshman Justin Thornton, who's expected to take a red shirt, worked out with wide receivers during pregame Saturday. He was recruited as a defensive back.
¢ It's now undisputable: Kansas leads the all-time Border War series. The Jayhawks list the lead at 54-51-9, while Missouri acknowledges 53-52-9. The mixup involves the interpretation of the 1960 game, which KU won but later forfeited because of an ineligible player.
¢ Tom Walker was referee and head of a seven-man officiating crew. : Temperature was 62 degrees at kickoff under mostly cloudy skies, with the wind blowing from the south at 16 mph. : Attendance was 48,238, and the game lasted 3:01.
¢ Grinning ear to ear, both Mangino and athletic director Lew Perkins walked together to their respective vehicles after Mangino fulfilled postgame interview requests with the press.
Copyright 2018 The Lawrence Journal-World. All rights reserved. This material may not be published, broadcast, rewritten or redistributed. We strive to uphold our values for every story published.