One lousy yard to go for a touchdown, and it looked as if the Kansas University offense wasn't going to get it.
Brandon McAnderson for no gain. Jason Swanson for no gain. Clark Green, a quiet guy, couldn't quietly stand by and let another opportunity die. So he looked to the sideline and pounded his chest emphatically, a gesture that demanded he get the ball.
This was the Missouri game. Green's game. He knew he could get the job done. He wanted to remind the decision-makers he could, so he pounded his chest.
Swanson handed off to Green. Touchdown. On that play, the Jayhawks took the lead midway through the second quarter and never gave it back, winning, 13-3, Saturday in front of 48,238 fans at Memorial Stadium.
By day's end, Green would have 125 yards on 22 carries in the Jayhawks' third consecutive victory over Missouri. He gained 118 yards against the Tigers in '04 and in four years has averaged 104 yards.
Photo Gallery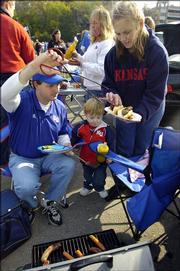 KU vs. Missouri
"I guess it's the rivalry, I don't know," Green said. "After listening to the stories about the rivalry, I really don't want to lose to Missouri. Don Fambrough gets me motivated every time. He's always talking to me every time we play Missouri, always telling me, 'Don't let one guy bring you down. Don't let one guy bring you down.' And it's not even what he says. It's the way he says it."
With four-letter words booming, neck veins bulging and hands gesturing.
A relentless KU defense that equally was buttoned up in the front, middle and back, sent Fambrough, the former KU coach and all-time leading Mizzou basher, home happy.
Send some of the credit for the Jayhawks' defense the way of Green, who doesn't have great breakaway speed or flashy moves, enormous size or a mention in conversations about NFL prospects. He doesn't have any of that. You think the students carrying the goalposts to Potter Lake cared one iota about what Green doesn't have?
On this sunny autumn afternoon when the helmets were blue and the jerseys red, Green was the man. He, Jon Cornish (10 carries, 63 yards) and Swanson (13, 52) kept the clock running and the defense resting. That's all this big-time defense ever has wanted out of the talent-challenged offense, a chance to let them win a game by getting ample rest. The Jayhawks rushed for 208 yards and won the time-of-possession battle, 34:47 to 25:13.
Green, who said he would mail his game ball home to his mom in Tampa, Fla., talked about how he could feel the end of his career coming and how it had spurred him to better performances. He also said better blocking had influenced his recent improvement.
"Our offensive line was moving their defensive line today, and our defense is awesome," Green said. "We've relied so much on our defense, and we haven't been moving the ball. Today, we were moving the ball on offense, and because of that the defense was fresher."
Consequently, KU isn't counted out of a bowl game yet. It comes down to this: Assuming a guaranteed loss at Texas, the Jayhawks need to win remaining home games against Nebraska and Iowa State to get to a bowl game. Failing that, at least Kansas won the most important game of the season. Again.
Copyright 2017 The Lawrence Journal-World. All rights reserved. This material may not be published, broadcast, rewritten or redistributed. We strive to uphold our values for every story published.