Homecoming doesn't get any better than this.
Kansas University fans had a banner day Saturday, starting with a morning parade along Jayhawk Boulevard followed by a few hours of tailgating in the parking lots around Memorial Stadium.
And topping it all was an afternoon 13-3 gridiron victory over the rival Missouri Tigers.
"We own Missouri," said an elated K.C. Brown, as he enjoyed the final minutes of the game with friends at a tailgate party outside the stadium.
"I think it's just sweet," added Vic McNulty, of Smith Center, as he sat in a lawn chair at the same party.
"We came, we saw, we conquered," said Brown, of Shawnee, who played guard for KU in the early 1980s and described himself as a disciple of former coach Don Fambrough. "We hate Missouri."
A short distance away at another tailgate site, David Shannon stood under a flag he had specially made that features both the KU and Texas Tech symbols. Shannon, a Texas Tech graduate who has lived in Lawrence for 10 years, said he cheered for both schools when they weren't playing each other.
Photo Gallery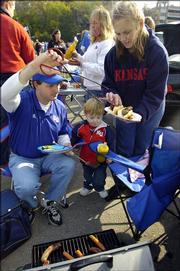 KU vs. Missouri
"If we had KU's defense and Texas Tech's offense, we'd win the championship," he said.
Shannon also thinks KU's offense is finally improvingwhich he hopeswill lead to a more festive tailgating atmosphere.
"KU has the weakest tailgating," he said. "People need to show up earlier."
Tom and Cassie Nuckols didn't waste any time getting to their tailgate site on Campanile Drive after making the four-and-a-half hour drive to Lawrence from their home in Plainville. As they enjoyed barbecue before the game, the couple and their two sons, KU graduate Brad Nuckols, of Kansas City, Mo., and Paul Nuckols, a KU freshman, felt confident about a Jayhawk victory.
"We are going to put a big hurt on them," Brad Nuckols said.
"Their backs are to the wall and they are going to come out swinging," Tom Nuckols said of the KU team. "I'm glad they are the underdogs today."
The Nuckols family also enjoyed the morning homecoming parade, as did hundreds of others who gathered along the main campus thoroughfare. Curtis McClinton, former KU and Kansas City Chiefs running back, and the KU marching band led the parade. Other bands and a variety of floats soon followed, many featuring Halloween themes that included haunted houses and tombstones bearing the numbers of certain Missouri players.
Among those watching the parade were Mike and Christina Ducey, of Kansas City, Kan., along with their two children, Adam, 2, and Olivia, 5.
"They liked the candy and the bands," Christina Ducey said of her children.
The parade held special meaning for Becky Lord and her brother John Lord, both of Lawrence. They played and marched with the KU Alumni Band. They said it was great to see old friends again and relive their days with the band in the early 1990s.
"It all starts coming back to you," said Becky Lord, a clarinet player who graduated in 1991.
Copyright 2018 The Lawrence Journal-World. All rights reserved. This material may not be published, broadcast, rewritten or redistributed. We strive to uphold our values for every story published.