GAZA CITY, Gaza Strip — Israeli aircraft and artillery pounded the northern Gaza Strip on Saturday, targeting roads and open areas it said Palestinians used to launch rocket attacks against southern Israel.
Palestinian Interior Minister Nasser Yousef told his security chiefs that "firm and serious action" would be taken against any militant facility for manufacturing or storing weapons, his office said in a statement Saturday.
But Palestinian security forces "would not enter any house looking for weapons," the statement added, reflecting Palestinian leader Mahmoud Abbas' reluctance to forcibly disarm gunmen, an action he fears would provoke civil war.
Israel's air and artillery strikes and the Palestinian statement capped a week of confrontations that began Monday with the killing of a top Islamic Jihad gunman blamed in the deaths of 12 Israelis in recent months. Islamic Jihad has been responsible for the deadliest attacks on Israeli targets since a February cease-fire between Israel and the Palestinians.
In the West Bank town of Ramallah on Saturday, Palestinian police fired in the air to disperse about 60 Islamic Jihad militants gathered outside Abbas' offices, some of them throwing stones at security forces.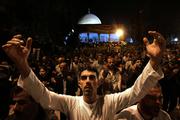 Orders have been given to clamp down on Islamic Jihad protests, Palestinian security officials said, an apparent effort to pressure the group to cease violence against Israel.
An Islamic Jihad revenge bombing Wednesday killed five Israelis, and on Thursday, missiles fired at a car from Israeli aircraft killed four Islamic Jihad members and three bystanders. An eighth militant was killed Friday after Israeli aircraft fired missiles at the car he was riding in.
No injuries were reported in the strikes that began just after midnight Friday and continued throughout Saturday.
Artillery shells were fired at an open area where the Israeli military said Palestinian militants sent a homemade rocket slamming into southern Israel.
Israeli military aircraft dropped leaflets in Gaza on Saturday urging Palestinians to report information they might have about planned rocket attacks.
Violence against Israel also simmered in the West Bank.
In Nablus, Palestinian militants detonated a car bomb near an Israeli combat ambulance early Saturday, causing damage but no injuries, the military said. And near Tulkarem, Palestinians lobbed explosive devices and opened fire at an Israeli military patrol, which returned fire. No injuries or damage were reported.
Copyright 2018 The Associated Press. All rights reserved. This material may not be published, broadcast, rewritten or redistributed. We strive to uphold our values for every story published.