The long-term effects of MJ Hassaballa's decision to compete in cross country this fall won't be known until spring.
However, the short-term storyline couldn't have been scripted much better.
The Free State High senior - who decided to run simply as a way to get some extra training for track season - finished off his first and only cross country campaign by winning a medal at Saturday's Class 6A state cross country championships at Rim Rock Farm, finishing seventh in the 5K run with a personal-best time of 16 minutes, 35 seconds.
"I didn't care what place I got as long as I ran strong," Hassaballa said. "It was my last race. I wanted to make it special."
Hassaballa's finish ties the best showing by a Free State runner at the state meet in the school's nine-year history.
"Today, I thought a top-20 finish is what he would do. Top 10 is just outstanding," said Free State coach Steve Heffernan.
Hassaballa wasn't the lone local competitor to save his best race for last. Not far behind on the leaderboard was Lawrence High senior Matt Riley, who also set a personal record by finishing 11th in 16:48.
Photo Gallery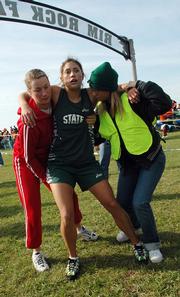 2005 6A State High School Cross Country Championships
Riley came to state as a freshman and finished 68th overall, but missed out the last two seasons while battling the injury bug. That made Saturday's showing even sweeter.
"In a way, it brings back old memories, and it's a good way to close out my high school career," Riley said.
Sophomore Dylan Hedges added to the Lions' medal haul, crossing the line 15th in 16:51 and teaming with Riley to lead LHS to fourth place in the team standings with 127 points.
"We're getting back up where we want to be," said LHS coach Chip Anderson. "It's nice to have a couple of kids that can dig in."
Outside of Hassaballa, Free State failed to place another runner in the top 40 and finished seventh as a team with 192 points.
Not that Heffernan was complaining.
"We lost 11 of our top 14 guys (from last season)," Heffernan said. "To be here back at state is just a tribute to their hard work and dedication."
Shawnee Mission Northwest cruised to a repeat team championship with just 35 points, while the Cougars' Tucker Weems also won his second straight individual title with a time of 15:34.
In the Class 5A race also held at Rim Rock Farm, Ottawa senior Jack Sachse earned the top local finish, taking 37th in 17:52. Mill Valley senior Mike Whim was 48th in 18:04.
Emporia senior Skyler Delmott paced the field in 16:14.
No local teams qualified for the Class 5A race, won by Wichita Carroll with 77 points.
Copyright 2018 The Lawrence Journal-World. All rights reserved. This material may not be published, broadcast, rewritten or redistributed. We strive to uphold our values for every story published.