Jubilation reigned Saturday afternoon on Campanile Hill as Kansas University students deposited the Memorial Stadium goal posts into Potter Lake to celebrate the third consecutive Jayhawk football victory against rival Missouri.
Lawrence sophomores Jack Bell and Josh Lawrence tried to dry themselves off after another group of students had carried the goal posts away.
"I'm not surprised about the game," Lawrence said. "With that group of seniors and that defense, I knew they wouldn't give up and they wouldn't lose to Missouri."
Bell said he was so elated with the 13-3 win that he could bear the slight chill from his wet clothes.
"Everybody was jumping in Potter, so we decided to follow," he said. "I'm glad we got to take the goal posts out of the stadium."
Instead of the traditional goal posts that required much climbing and tugging to remove from the ground, Saturday was the second time students carried away the new models that staff members can lower to the ground in seconds.
"I don't know if the new way is safer, but it's still fun to carry them out of there," Bell said.
Photo Gallery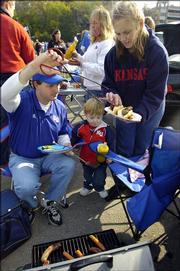 KU vs. Missouri
A.J. Henry, a Topeka freshman, said seeing the Jayhawks win and taking part in the charge up the hill ranked as his favorite moment at KU.
"I figured if we just stopped (Missouri quarterback) Brad Smith, we'd win, and we did," he said.
Removed somewhat from the student celebration, Steve and Missy Ratzlaff, of Halstead, waited outside Memorial Stadium with their son, Dylen.
"Again the defense showed why they are ranking second in the nation against the run," Steve Ratzlaff said.
"They only gave up three points, especially in that first half. You knew when KU got that touchdown that they would be tough to beat."
Missy Ratzlaff said the rowdy KU fan base made a huge difference Saturday.
"We had a lot of KU fans here, and a lot of Missouri fans left early," Bell said.
Copyright 2018 The Lawrence Journal-World. All rights reserved. This material may not be published, broadcast, rewritten or redistributed. We strive to uphold our values for every story published.