Jacksonville , Fla. — This Cocktail Party might have been a savory setup for Florida's real celebration. And once again, Georgia's national-title hopes were sunk in the River City.
Chris Leak threw a touchdown pass and ran for a score, and the Gators used an impressive defensive performance to take down the previously unbeaten Bulldogs, 14-10, Saturday at the World's Largest Outdoor Cocktail Party.
No. 16 Florida (6-2 overall, 4-2 SEC) defeated its rival to the North for the 14th time in the last 16 meetings and kept alive hopes of winning the SEC East and returning to the league title game for the first time since 2000.
The Gators need to beat Vanderbilt and South Carolina and have Georgia lose one of its remaining games against Auburn and Kentucky to win the division.
"A lot of people counted us out after that devastating LSU loss," Florida defensive tackle Marcus Thomas said. "Now, we're back in the race for the SEC."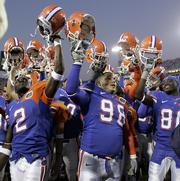 The fourth-ranked Bulldogs (7-1, 5-1) don't require help in the SEC. They need to win out to advance to the conference championship game for the third time in four years. In the national-title race, however, Georgia is all but done.
"We've still got a lot to play for," Bulldogs quarterback Joe Tereshinski III said.
The annual game played out a lot like it did in 2002, when the three-loss Gators handed Georgia its first loss of the season and temporarily prevented the Bulldogs from securing a spot in the SEC title game.
This one wasn't an upset, though. Playing without injured quarterback D.J. Shockley, Georgia was an underdog in a series dominated by Florida since former coach Steve Spurrier took over in 1990.
Spurrier's successor, Ron Zook, beat Georgia twice in three years. On Saturday, it was Urban Meyer's turn to extend the Bulldogs' heartbreak.
But it wasn't easy.
Defensive end Jeremy Mincey made three huge plays on Georgia's final two drives. He tackled Thomas Brown for an eight-yard gain that prevented points early in the fourth quarter. Georgia had to settle for a 52-yard field goal attempt, which hit the right upright.
Tereshinski finished 8-of-21 for 100 yards in his first college start. The junior also ran for 37 yards. Brown and Danny Ware combined for 125 yards on the ground. Leak finished 15-of-20 for 108 yards for the Gators. DeShawn Wynn ran 19 times for 109 yards.
"This game came down to heart and hustle," Mincey said. "We had more heart, and we outhustled them."
"We knew that we needed to have this win," Florida center Mike Degory said.
Copyright 2018 The Associated Press. All rights reserved. This material may not be published, broadcast, rewritten or redistributed. We strive to uphold our values for every story published.