Call him Ishmael.
Some years ago - never mind how long precisely - actor Chris Moore thought he would sail about a little and explore the writing part of the theater world.
The object of his hunt? The elusive white whale of Herman Melville's "Moby-Dick." But unlike Capt. Ahab, Moore did not seethe for the whale's destruction. Instead, he longed to share the great American seafaring adventure with as many people as possible.
So he adapted the epic into a play, condensing Melville's 400-plus-page novel - which takes 30 hours to read straight through - into a one-hour, one-man show for the stage. It premiered in New York's West End in May 2003 and has traveled to Minneapolis, Chicago and the Berkshires. Now Moore is setting sail for Lawrence, the hometown of his wife, Ellen, for a Sunday performance at the Lawrence Arts Center.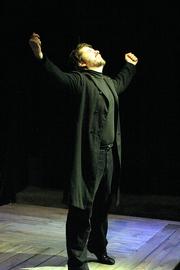 "I've always been attracted to the characters and the writing," says Moore, who lives in New York, where he performs with the Pearl Theatre Company. "I always see it as a survival story. Ultimately, one of the elements is one person alone survived this unimaginable tragedy, and he's taking that story and sharing it with us.
"I thought, 'What if this character, Ishmael, was to be in front of you to tell this story, using the text of the novel?'"
The result is mesmerizing, says Beth Schultz, a Melville scholar and Kansas University professor emerita of English, who saw Moore perform at last year's International Melville Conference in New Bedford, Mass.
"Usually when an individual takes this gigantic novel on, it's a daunting task because there are so many characters and Melville writes in so many difference voices," she says. "But I think Chris Moore has done an exceptionally nuanced and meaningful and powerful one-person interpretation of the novel."
Harpooning the masses
The story follows Ishmael, who joins the crew of the whaling ship Pequod, helmed by the brooding, one-legged Ahab. The captain lost his limb to a fierce white whale and has been obsessed ever since with the pursuit of his nemesis. Ahab's insanity spreads to his crew members, who join him in his last, deadly attack upon the enigmatic leviathan.
Moore's adaptation uses Melville's language, almost to the letter (he rearranges the order of the book and changes a few pronouns here and there for clarity). But his performance always seems to strike people afresh, even those who have made a career of reading the novel.
"Some of the scholars have said, to hear it in this way, it's a different way of experiencing it. And almost every single time someone will say I've got to go back and revisit it," says Moore, 37. "But the more rewarding thing is that the people who were intimidated by it or weren't familiar with the story or for some reason hadn't experienced it found it to be, as a play, very welcoming and enjoyable and far different from what their expectations had been."
The passage comes from the part of the novel when Capt. Ahab calls his hands on deck to tell them about the white whale.
Moore has garnered critical acclaim as well. Critic Liz Kimberlin, of nytheatre.com, praised the production's ability to embrace Melville's humor.
"Much of Melville's dry humor, which might be lost on the page in a first reading, becomes much more evident when voiced by someone who knows what he's doing," she wrote. "Moore plays all the characters, slipping seamlessly out of one skin into the next. (He gracefully manages) to make the poetic 19th-century language accessible and natural."
In the whale's grip
That's one of the reasons Lawrence High School English teacher Susan Tate, who's a friend of Lawrence native Ellen Moore and saw the show during a trip to New York, wanted to bring Moore to Lawrence. She teaches "Moby-Dick" in her junior and senior classes, but they only have time to read selected chapters.
"I thought it was a great way to bring the essence of the whole narrative to the high school," says Tate, who arranged for Moore to give two performances on Monday at LHS. "Chris's show has such clarity that you don't feel like you're missing anything."
Past Event
When: Sunday, October 30, 2005, 7:30 p.m.
Where: Lawrence Arts Center, 940 New Hampshire St., Lawrence
Cost: $8 - $10
-->
-->
Jack Wright, Moore's father-in-law and a professor of theater and film at KU, wondered how Moore would capture such a sprawling epic in one hour.
"I'm his father-in-law, so I would naturally be inclined to like it," Wright admits. "But being a theater person, too, I really cast my objective eyes on it. When we saw it in New York, a number of people came out at the end of the show and said, 'I've got to read the book.'
"I think he accomplishes an educational mission with it as well."
Indeed, the novel continues to resonate 150 years after its publication, warning of the dangers of pillaging the natural world, oppressing minorities and following destructive policies.
"Whether you read Ahab as Osama bin Laden or you read Ahab as George Bush, it is very much about that trajectory - that blinkered ideology leads to destruction," Schultz says.
Moore's performance illuminates all of these issues. But it also tells a a riveting adventure story.
"He's marvelous at not dumbing down the high rhetoric and the wonderful complexity of Melville's language," Schultz says. "It's in your face so that you cannot deny it's power. He makes Moby-Dick grip you."
Copyright 2018 The Lawrence Journal-World. All rights reserved. This material may not be published, broadcast, rewritten or redistributed. We strive to uphold our values for every story published.